Improved Stemming for Search & Keywords
June 2019
You can now change the algorithm Asset Bank uses to match plurals or similar words when searching.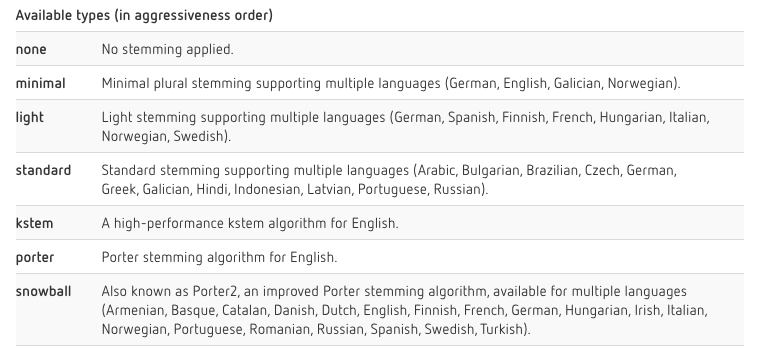 These options are available to Admin users in Admin > System > Search Settings
New Feature: Google reCAPTCHA
June 2019
We've added support for Google reCAPTCHA to prevent automated software from attacking your Asset Bank. reCAPTCHA appears on user registration, contact us and other areas of the site that might be prone to these types of attacks.
If you're hosted in the cloud with us you'll be automatically upgraded and don't need to do anything. On-premise customers can continue to use legacy CAPTCHA, or supply their own reCAPTCHA keys. Full details can be found in this article.
New Feature: In-App Support
June 2019
Administrator Users can now browse our Help Centre articles or contact the Support Team directly, via a new in-app Support Widget.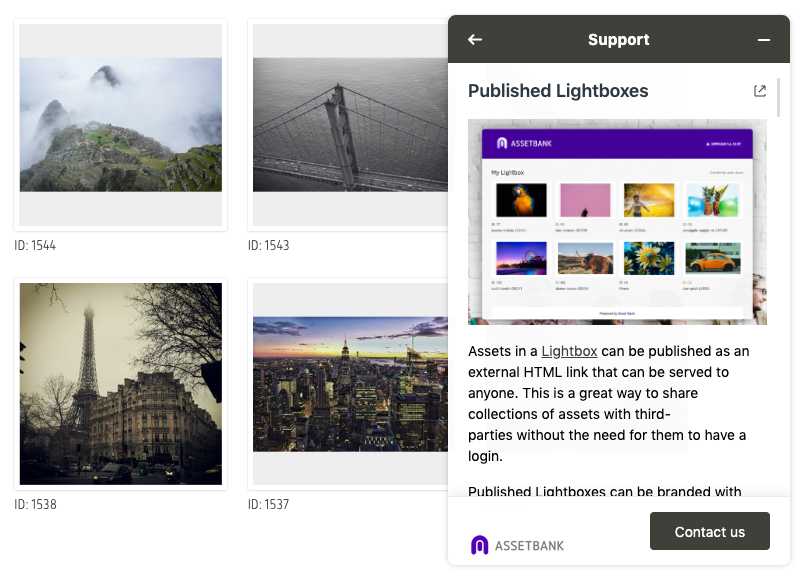 Simplified Relationship Assignments
May 2019
It is now easier than ever to assign related assets. On any search or browse page simply select the asset/assets you wish to assign a related asset to, then from the 'More' dropdown menu choose the Asset Type.

For more information, take a look at our support articles for Asset types, Relationships and how to assign them.
Introducing Brand Hub
May 2019
Say hello to Brand Hub, a new interactive brand guidelines platform created by the team behind Asset Bank. 
Brand Hub has been designed to tell your brand story, showcase brand assets, inspire your teams and partners and reinforce brand consistency across your organisation.
If you're tired of sending outdated guidelines in PDFs or linking to static web pages, we think you'll love Brand Hub! 
Brand Hub is available to all existing Asset Bank Cloud Subscribers for an additional monthly fee, plus a one-time setup cost.
Visit this article to learn more. For pricing or to arrange a demo get in touch with your account manager today!
New Feature: Video/Audio on Hover
April 2019
Preview video and/or audio on browse & search results by simply hovering over the thumbnail.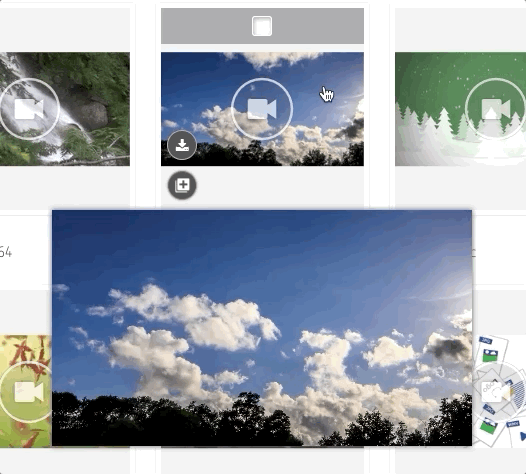 Admin users can enable this in Admin > System > Browse Settings
Protect your brand with BrandStencil
December 2018
Not everyone's a designer, and who says they should they be? BrandStencil saves time and protects your brand identity by ensuring consistency across all of your communications material.



Our integration with BrandStencil lets you use your Asset Bank content to build beautiful, bespoke web-editable templates at the click of a button.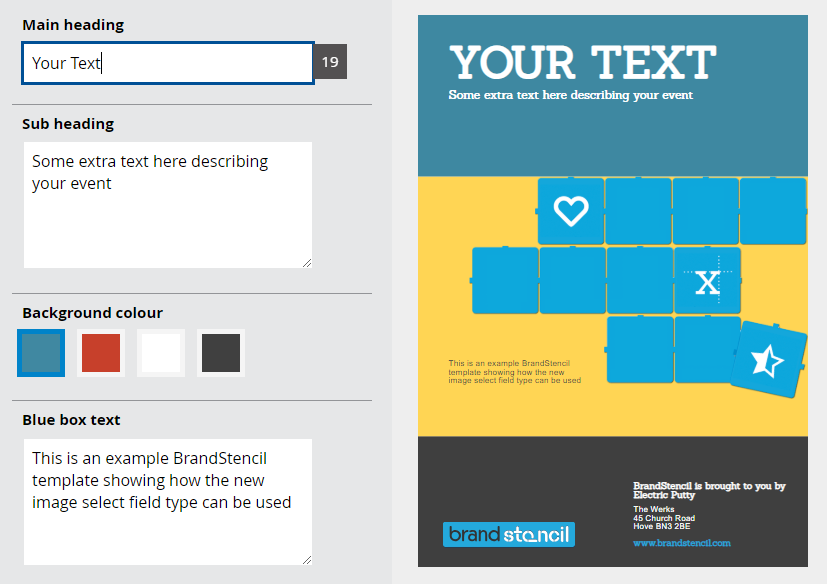 Available to all of our existing Professional or Enterprise customers, connecting Asset Bank to your BrandStencil account couldn't be simpler. Talk to one of our account managers today to get started.
New Feature: Desktop Connector
November 2018
Our new Desktop Connector enables designers to work productively with Asset Bank and desktop applications such as Adobe InDesign, Photoshop, Illustrator, Microsoft Powerpoint and more.
Desktop Connector is a standalone desktop application for Windows or MacOS, and is available to Professional or Enterprise customers at no extra cost.
Get in touch with our Customer Support team to learn more.
New Feature: Auto Tagging
October 2018
Asset Bank's new Auto Tagging feature extracts keywords from images at point of upload or update, saving time and effort when you need to tag lots of assets at once.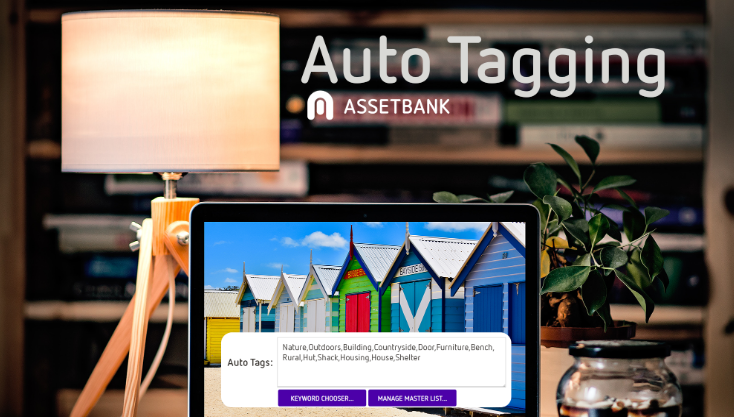 Auto Tagging is an optional service available to customers hosted on our Cloud platform. To add Auto Tagging to your Asset Bank subscription please contact our Customer Support team.
New Feature: Attribute Strip
July 2018
Attribute Strip allows any text-based attribute value to be placed on an image upon download.
This is useful if you'd like to add photographer credit, or a short description to downloaded image assets.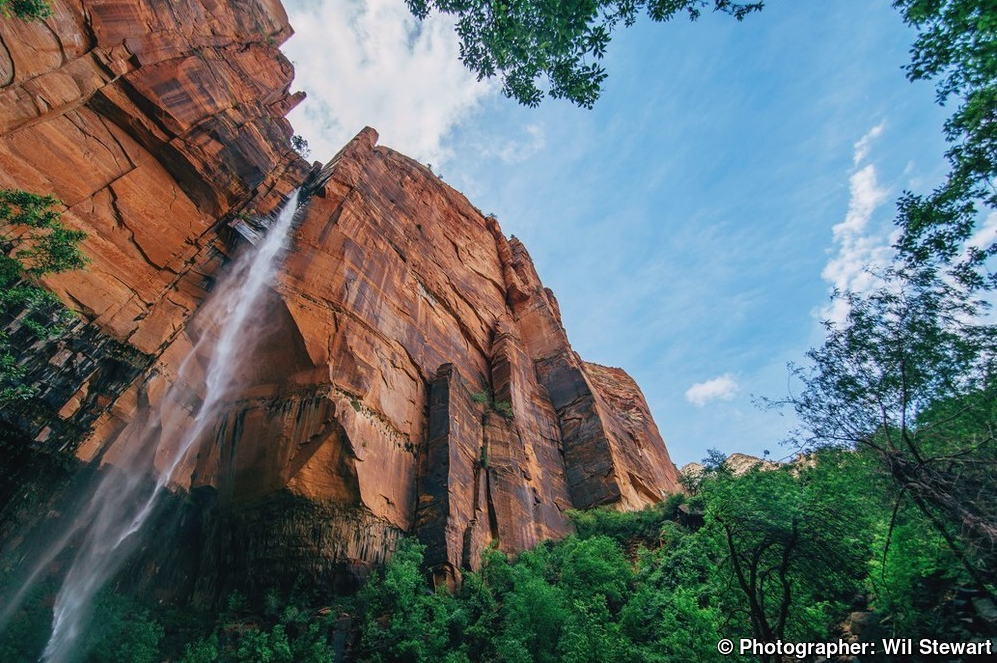 To learn how to configure Attribute Strip, please read this article, or get in touch with Customer Support today.
Updated Forms
June 2018
As part of our continued effort to enhance the look & feel of Asset Bank, we have updated several areas of the UI, including text fields, radio buttons, checkboxes and dropdown menus.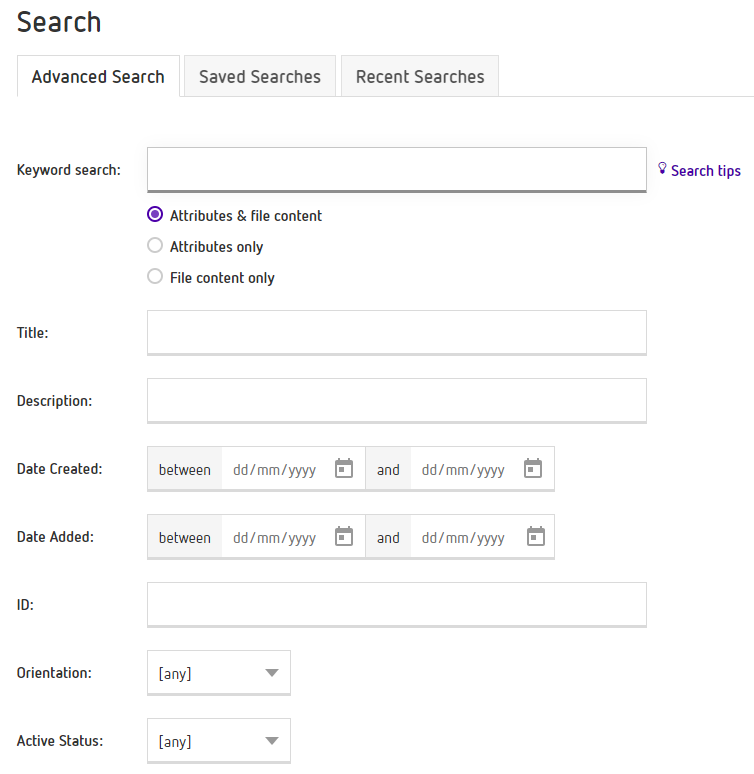 Bulk User Delete
June 2018
In the latest version of Asset Bank, it is possible to delete users in bulk rather than individually.
Simply search for the users you wish to delete within Admin > Users and use the selection tool and 'Delete User(s)' button as necessary.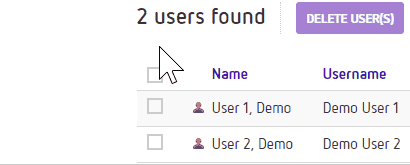 New Feature: Share by URL
Apr 2018
Sharing your assets just got easier, as users with sharing permissions can now generate public-facing download links.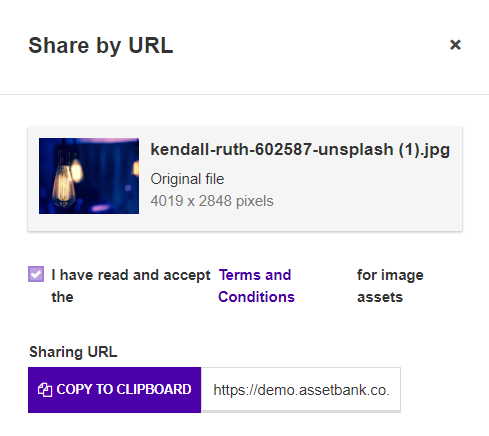 This feature is really useful for quickly sending individual or collections of assets outside of Asset Bank, as an alternative to email or third-party sharing solutions that you may already use.
New Feature: Asset Transformer
Mar 2018
Need highly available, perfectly cropped assets for your CMS, e-commerce or external web platforms? Our new Asset Transformer module has you covered.


Asset Transformer generates resized and cropped images for use on your websites. Ideal for a variety of use cases, from online product catalogues to social channels.

All images are delivered from a Content Delivery Network for high availability and delivered fast, worldwide. 

This support article provides further details, or our support team will be happy to answer any questions or provide a demo.
Automatic Upgrades
Nov 2017
Say goodbye to scheduled upgrades, as our cloud-hosted customers now benefit from the latest product enhancements and performance improvements without needing to schedule an upgrade.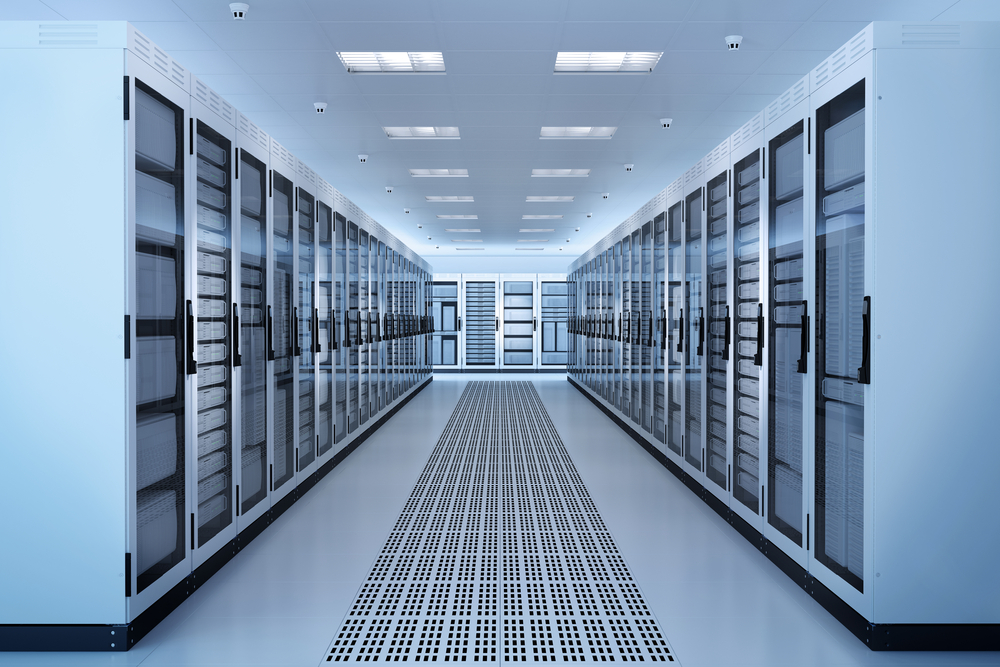 The great news is that all new core developments and features will be available for you immediately as standard. You won't notice any other difference to your site - just great product enhancements with no service disruption outside of your working hours.
Feature your video assets
Dec 2017
It's now possible to bring your homepage to life by featuring video assets.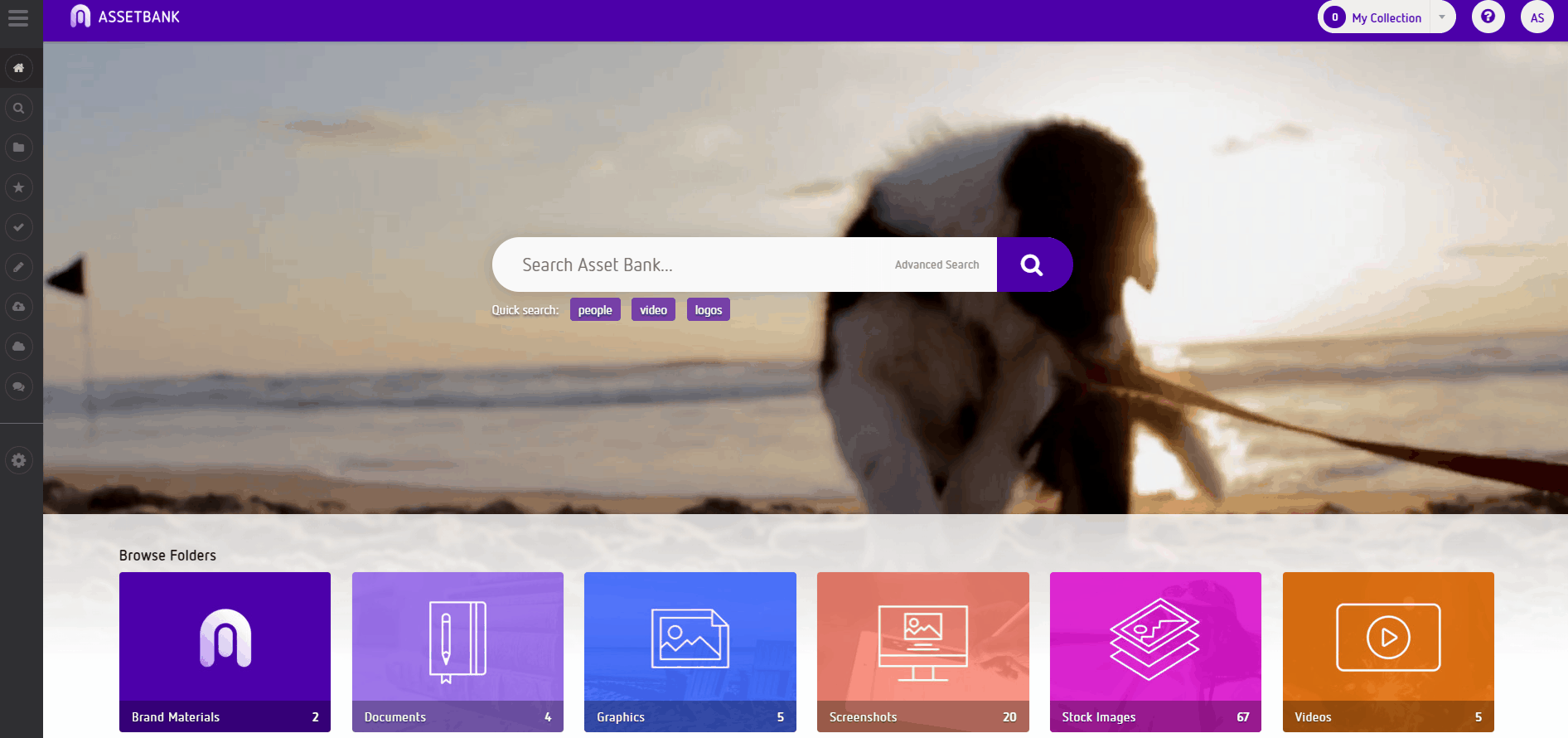 Choose between two configuration options: videos can play and loop automatically in the background (great for short clips with no audio), or users see a play/stop buttons and a volume control which is ideal for brand expression videos.
Read about how to Feature your assets in this support article, or get in touch with our support team today to learn how to optimise your video assets for use with this feature!
Support for Microsoft SQL Azure
Nov 2017
We now support use of Microsoft SQL Azure as a database solution for clients who choose to host Asset Bank within Azure.
SQL Azure is a managed cloud-based database service with several advantages which you can read about here. It joins SQL Server & MySQL as available database solutions for Asset Bank.
If you'd like to learn more, get in touch with our support team today.
Passwords for published lightboxes
Aug 2017
We've made it simple to secure your shared assets.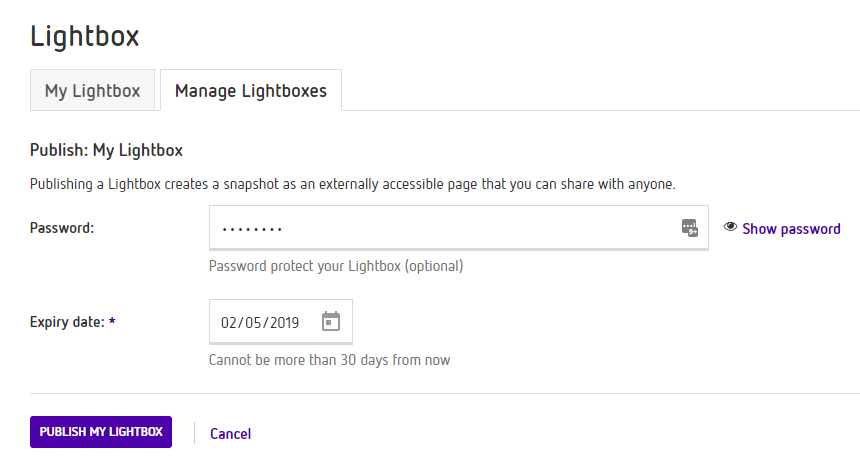 When using our Published Lightbox feature, it is now possible to add an optional password for additional security. Used alone, or in combination with an expiry date, you can now be sure that only the intended recipient will be able to access the assets you have selected for them.
Enhanced support for transparent images
Aug 2017
Full transparency contained within images and design files is now supported.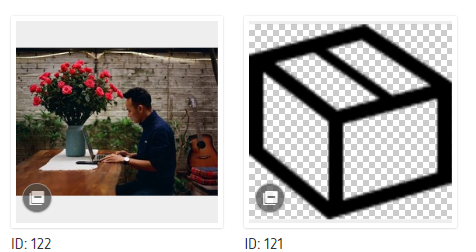 We've enhanced our support for all major file types that contain transparency, including PNG, PSD, AI, and PDF. As per the convention, we now show a checkerboard background to indicate which areas of the image or design file are transparent. This enables your users to quickly and accurately identify which files contain transparency.
Larger previews on published lightboxes
Jul 2017
It's now easier than ever to share assets with third parties.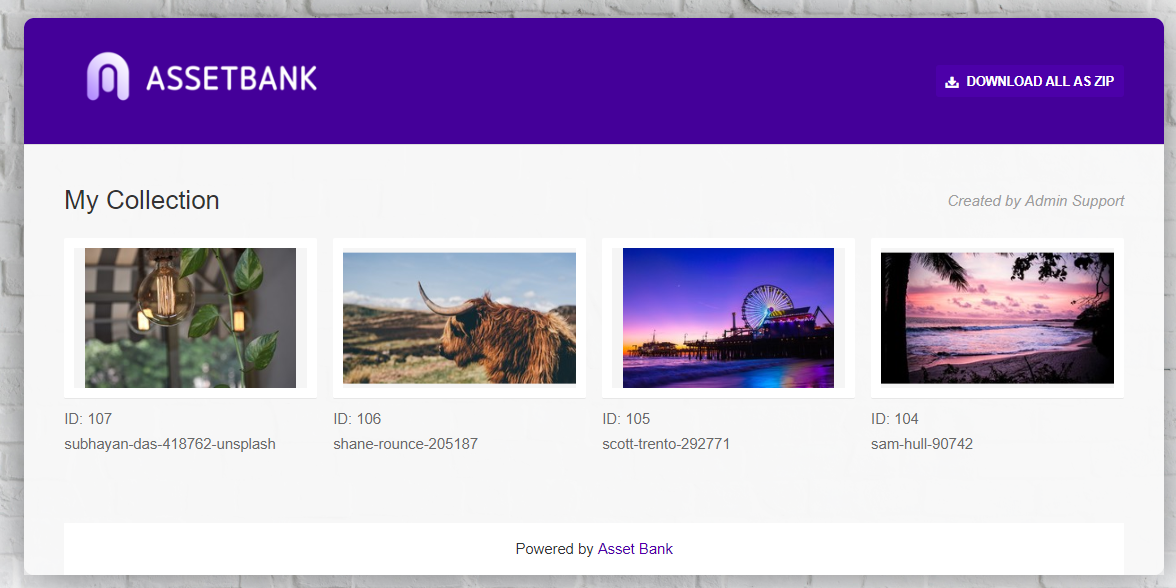 The ability to quickly and professionally share your assets with people outside your organisation is a vital capability for any DAM system. We call this feature Published Lightboxes, and as part of our latest round of enhancements, we have increased the size of the preview images to help make it easier for the recipient to find the right file.
API support for OAuth 2.0
Jul 2017
Developing API integrations with Asset Bank is now even more straightforward and secure.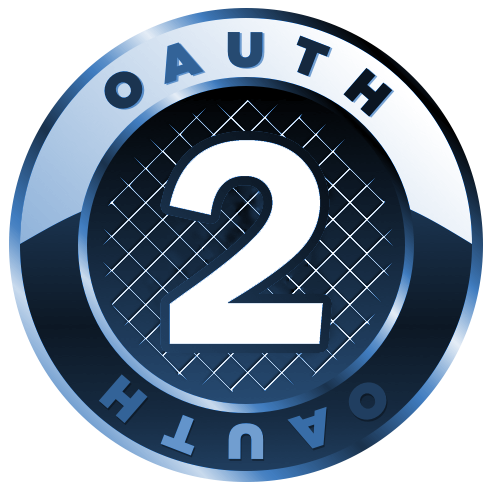 Building on the strong foundations of the Asset Bank Rest API, we are delighted to announce that we have now added support for OAuth 2.0 authentication. Without doubt, OAuth 2.0 has become the industry standard for API authentication and is widely regarded as a must-have for any and all API integrations.
Take a look at our OAuth 2.0 Workflow documents for more information on this topic, or visit our API documentation to learn more about the capabilities of our REST API.
New options for your homepage search
Jun 2017
We've enhanced our homepage search, making it bolder and easier to read over your featured images.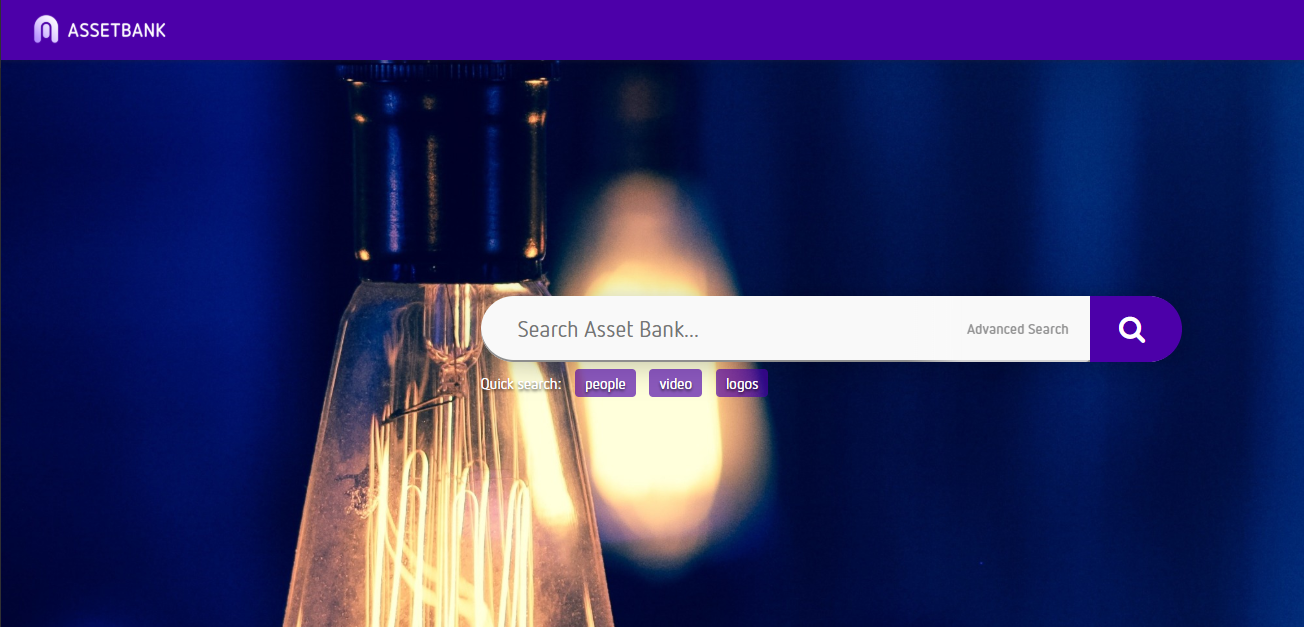 Or if you'd prefer for the search bar to appear in the header, we can configure that for you.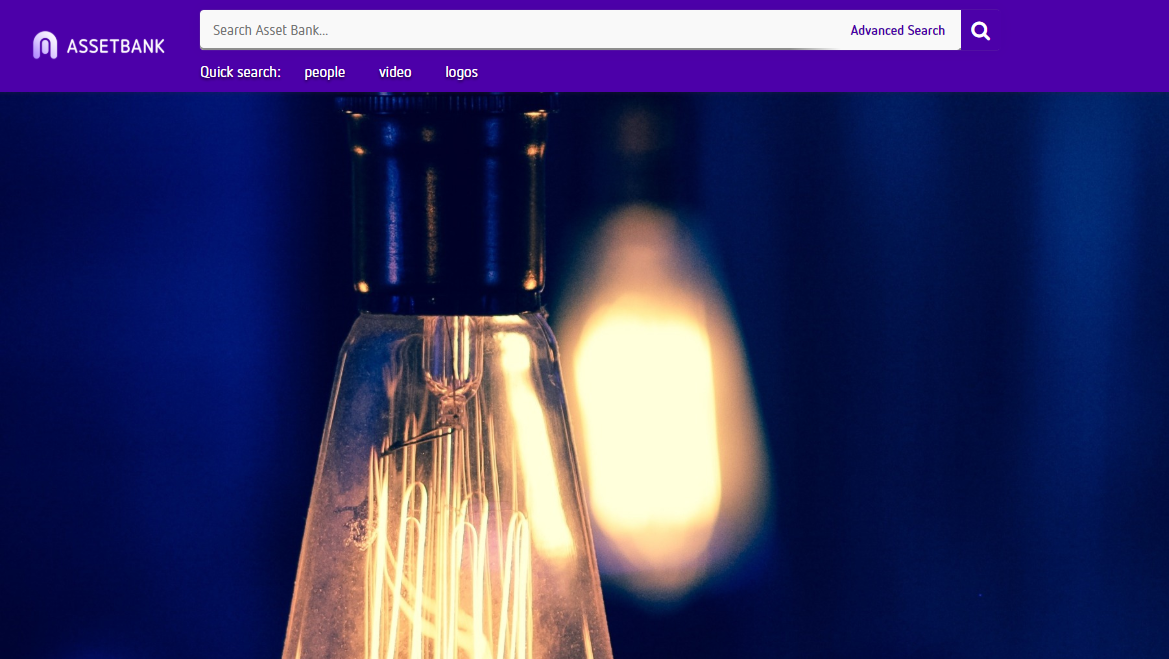 If you've recently moved to the new design and would like to take advantage of the above changes, please contact our support team today.
Audit Log Report Enhancement
Mar 2015
The audit log report will now generate results for all transactions within a given date range. You can also download the report as an Excel file, allowing you to order based on deletions for example.

Publish Lightbox download display name improvement
Mar 2015
We have updated Publish Lightboxes so that the names shown for re-size options reflect the usage type name alone. This is much clearer for the end user.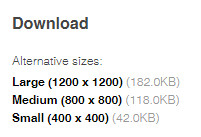 New Share by Email Feature
Mar 2015
You can already share items by email during the download process. However, in order to make this feature more accessible and visible we have created a 'Share' button that appears on the Asset Details page. Currently this only allows the emailing of a copy of the original to your target recipient(s), however this will be extended to offer more sharing options in future releases.
To activate this functionality post upgrade you will need to go to:
Admin > System 'Asset Share Settings'
Then set 'Sharing enabled' to Yes.
Note, currently this functionality does not as yet respect daily download limits or agreements, so do not activate this if you are using this functionality.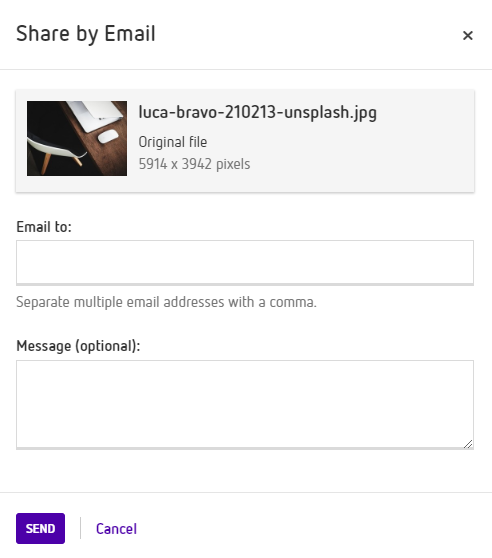 The email recipient will receive a link to download the asset/s: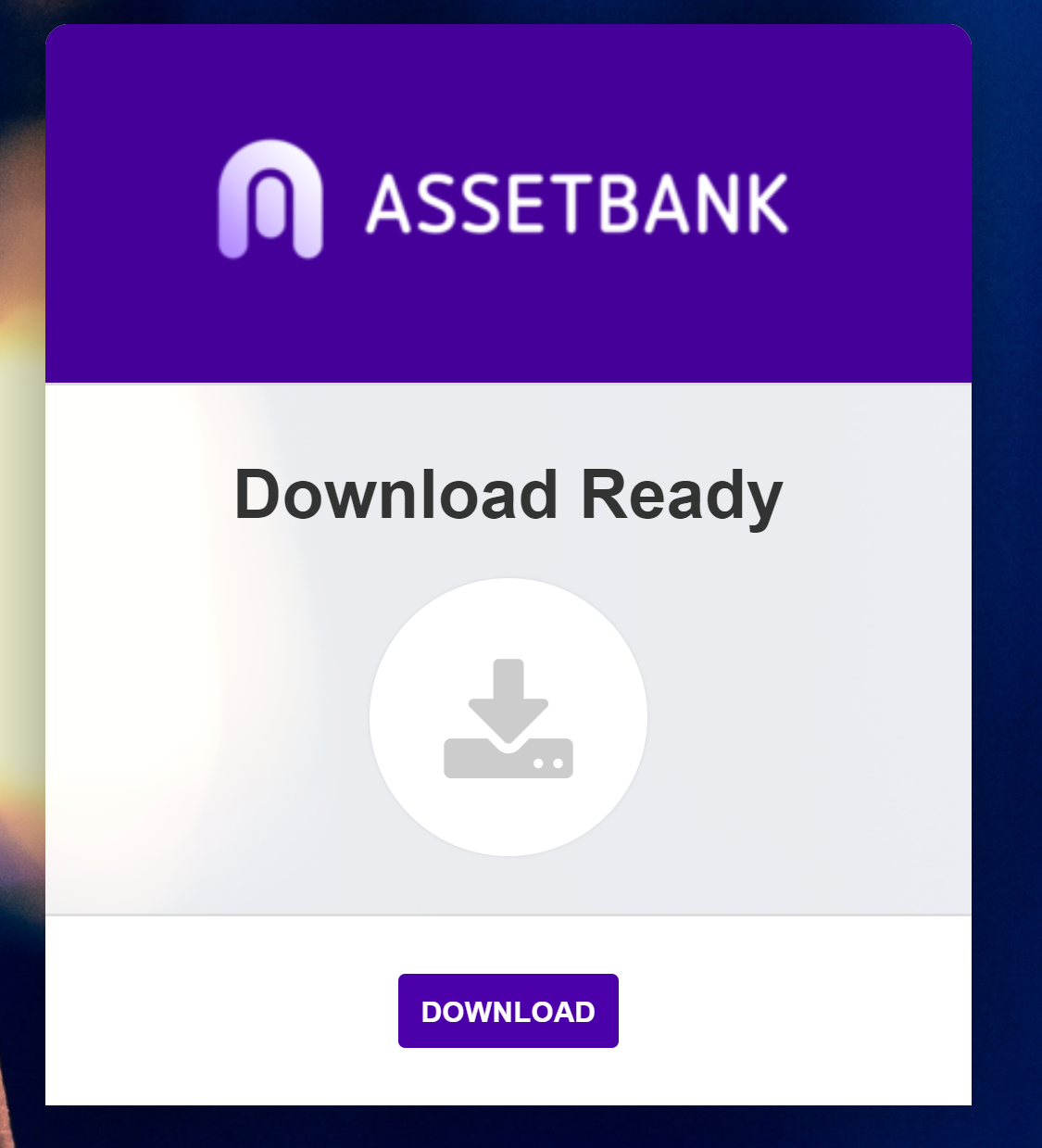 Improved bulk upload workflow
Mar 2015
We have improved the user experience of the bulk upload process by removing any unnecessary text, adding a simple 'clear uploaded files' link, and emphasised the target area for the drag and drop upload mechanism. We have also made it simpler to resume a bulk upload if returning to it later.
(Note, if you have changed any of the user facing text on this upload page then this will not be removed by the upgrade. You can review this yourselves and delete if necessary.)
Updated login, registration and share as link pages
Mar 2015
In order to improve the experience for your users we have enhanced these pages by removing extraneous text, re-ordered elements to make them follow best practice conventions and increased the visual quality. We will continue to improve the user interface in future upgrades.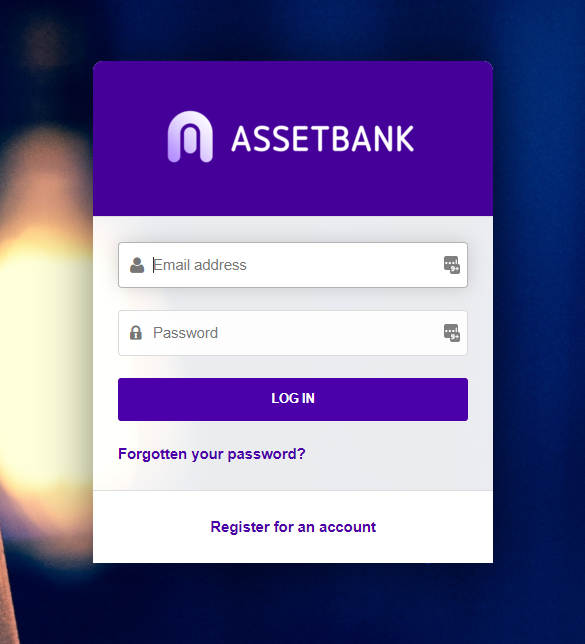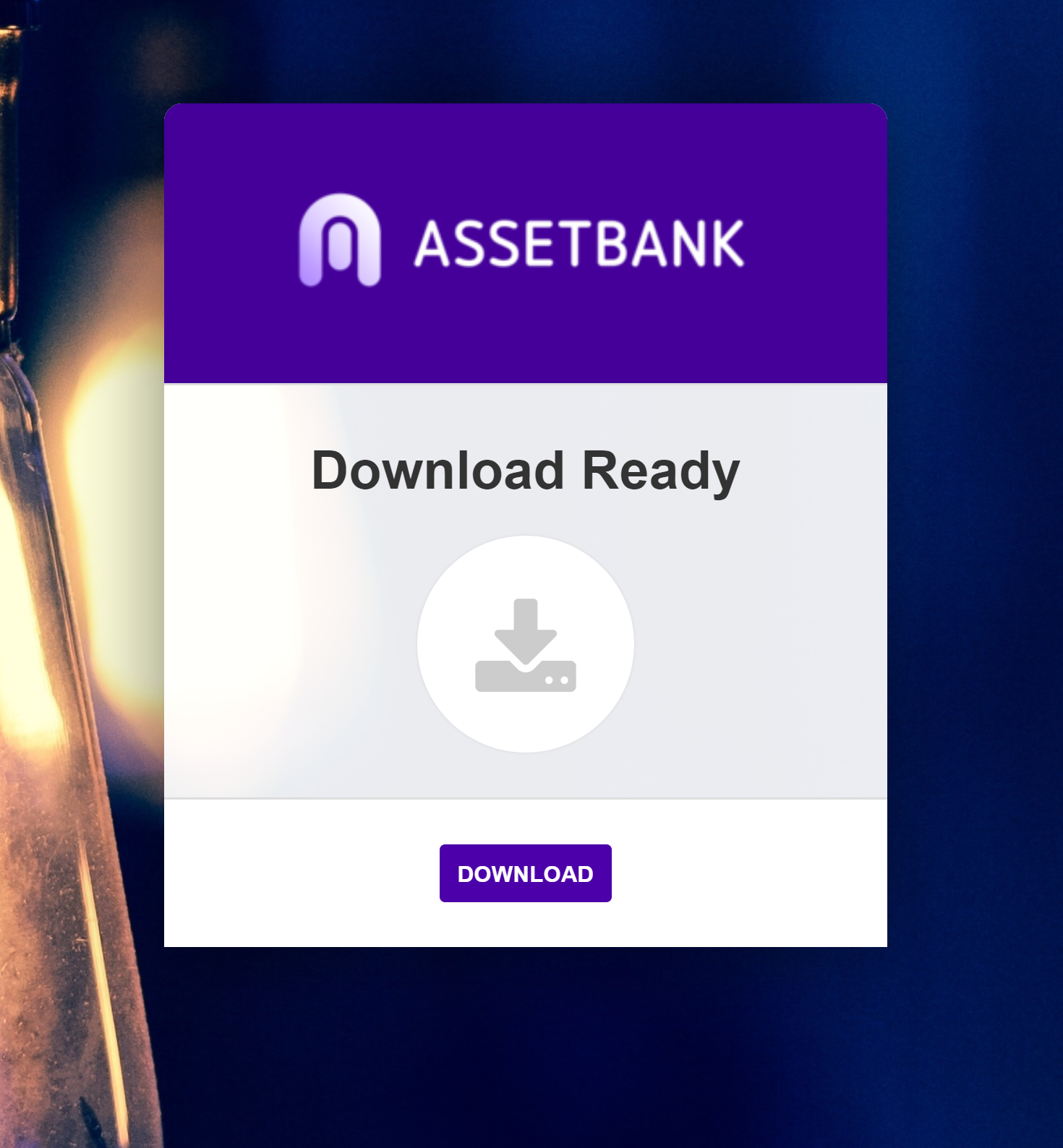 Improved pagination
Apr 2015
The pagination controls have been updated, with larger hit states (especially relevant for mobile and tablets) and improved styling.

New content alert email
Apr 2015
Users can now choose to subscribe to a 'New content alert' email. An admin user would configure this to run daily or weekly at a given time of the day. When run, users who have subscribed will get an automatic email notification if new content has been uploaded that they have permission to see. This is a great way for users to stay up to date.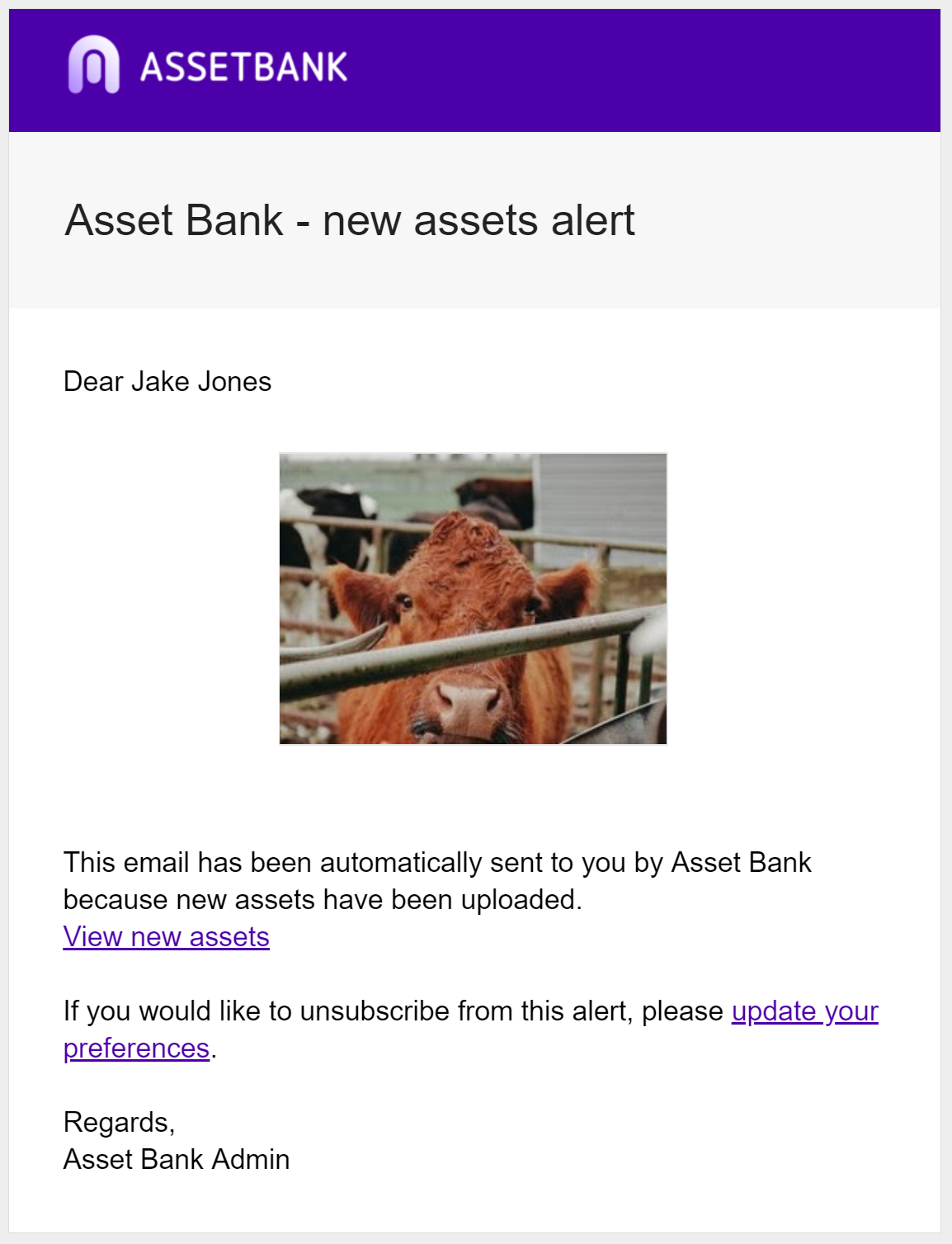 Admin users can configure the frequency via:
Admin > System > "New Content Notification Settings"
Admin users can also decide of all new users should have this set by default. Finally, users themselves can opt in/out via their profile page.
Improved email templates, with logo option
Apr 2015
We have improved the format of the emails generated by Asset Bank. They are now displayed in a nicely formatted HTML template and use better fonts. You can now also configure Asset Bank to include your organisation's logo at the top of each email.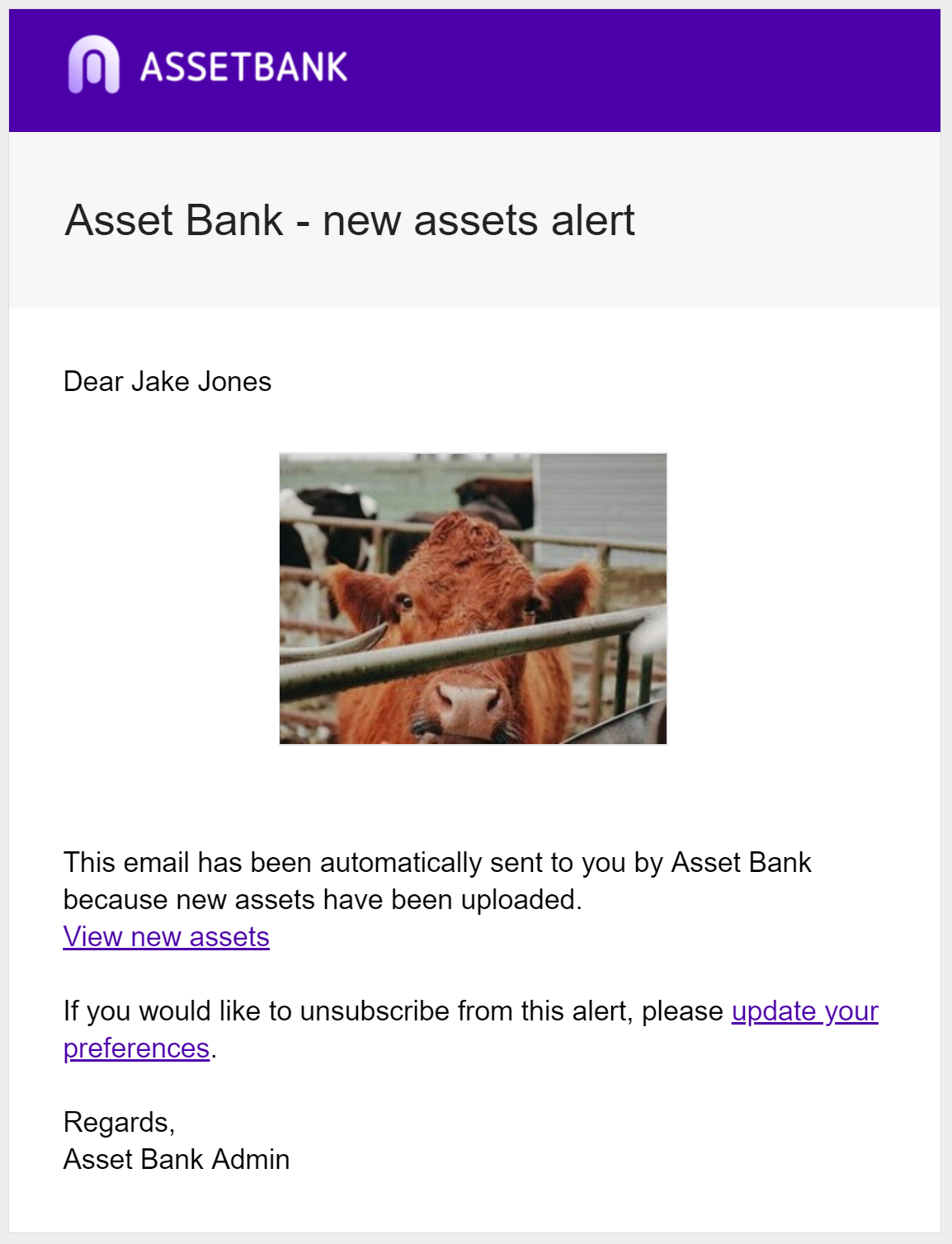 To add your logo, please read the instructions found here:
Admin > Content > Email templates [edit] > "Set the logo image to include in emails"