Enhancement: New Manage Users Page
Apr 2022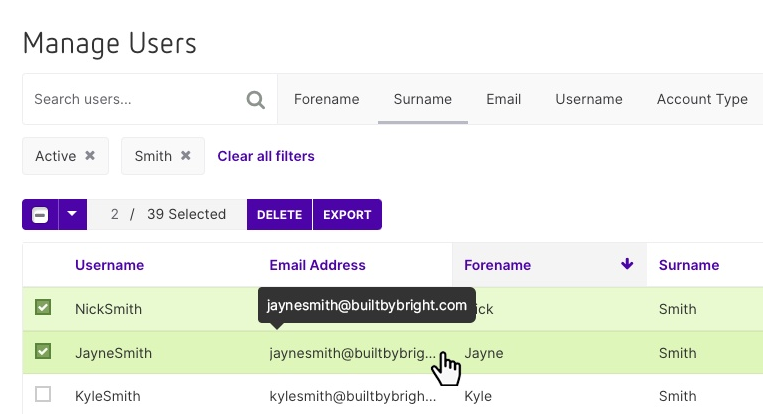 We have overhauled the User Management page that admins have access too.
Benefits include:
One search box to allow you to search on anything (user name, email address, group name, etc.)
Search filters to allow you to narrow down your search results based on other criteria (e.g. admin users, members of specific groups, SSO users, etc.)
A much condensed search area, meaning loads more space to display user information without the need to scroll
All active users listed automatically when you arrive on the page for convenience
Eight columns of user data instead of three, including Group, Status, Last Login and Expiry date
Sortable columns of data, with extra info shown on hover
Safer user deletion controls to avoid accidental deletion
Enhancement: Empty a lightbox quickly
Apr 2022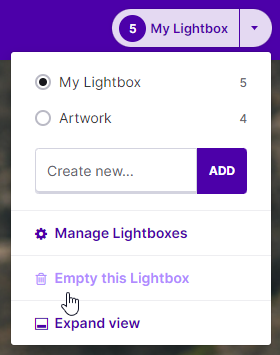 As requested, we've made it easier to empty an existing lightbox directly from the panel, without having to visit the lightbox page itself.
Integration: Drupal 9 now supported
Mar 2022
We've extended our existing simple Drupal Connector so that it now supports Drupal 9.
Enhancement: Advanced pagination
Mar 2022

Clients have asked for more control when paging through search results and so we have added the ability to skip forward/backwards and jump to the beginning and end of the result set.
Enhancement: File extension on previews
Mar 2022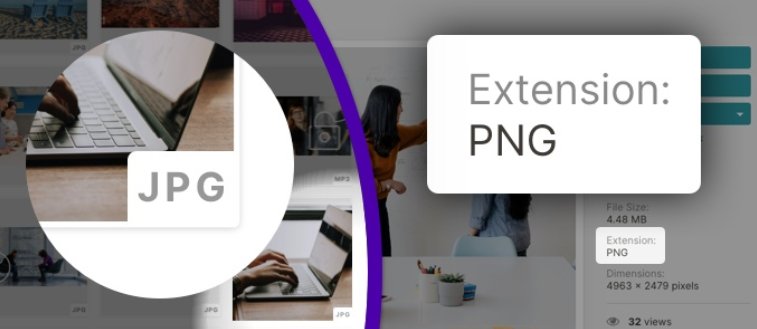 We've updated Asset Bank so you'll now see file extensions on your asset previews. This will help you quickly identify the type of file - JPG, MP4, PPTX, DOCX - you name it.
You won't see these on the homepage panels (this is to keep your homepage clean and reduce noise), and in addition, you can now find the file extension on the asset details page too - in the info panel (on the right-hand side).
Enhancement: Bulk update, populate title from filename
Mar 2022
Clients who make use of our External Upload feature have asked us to add in the "Populate Title from Filename' option into this workflow. This will help save lots of time when this is the desired outcome. To achieve this we have added the feature to the Bulk Update process. You can now see it there:

Enhancement: Direct link to expired assets
Feb 2022
When assets expire, then admins (and other groups who should be notified) receive alert emails. Previously these just showed the Asset IDs, so you'd have to find the URL of the Asset Bank and then search for the IDs to see these files. This has been streamlined, and now these IDs are hyper-links that take you straight to the assets in question.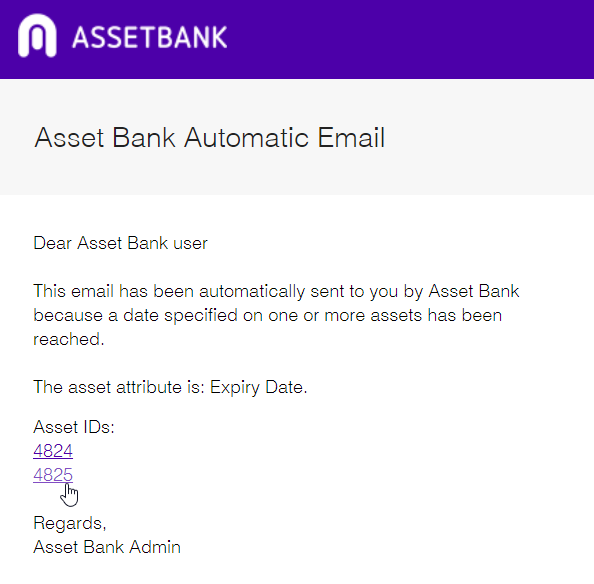 Enhancement: Two new IPTC accessibility properties
Jan 2022
We've extended the options available for metadata extraction (or injection) by adding two new accessibility options for IPTC metadata: Alt Text (Accessibility) and Extended Description (Accessibility). You can access these via:
Admin > Attributes > Embedded Data Mappings (tab)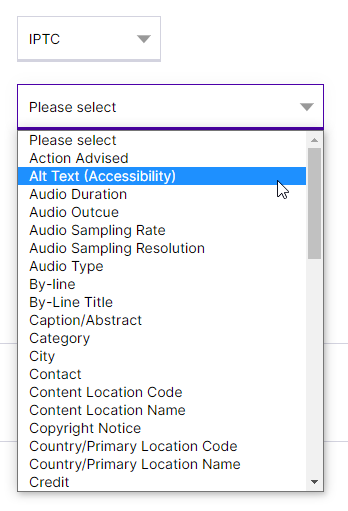 More details about these two new properties can be seen on this IPTC Article.
New Integration: Media Channel by Cogapp
Jan 2022
We're excited to announce a new third-party integration that allows you to build a powerful video microsite and connect with your Asset Bank.
Media Channel is a video platform for publishing your video content online. Its powerful search and sharing capabilities mean you can push your brand's videos out to your audiences, fast.
Here are some of the things you can do in Media Channel:
Auto-transcribe

automatically creates new, searchable metadata to help people find exactly what they're looking for. What's more, when clicking on a certain word in the transcript, the

video

player automatically jumps to that point in the

video

.


Search, clip and share

means your audience can find the content they are looking for, create a clip and share that clip on their social media channels.


Automatically update

videos

in Media Channel whenever you make a change in Asset Bank. This ensures your content is always up to date and you are in control of what is published.
If you want to see what Media Channel looks like in the wild, check our Hammer Museum's incredible archive of live events and recordings. Also see our integration page.
Enhancement: Mandatory passwords for Published Lightboxes
Dec 2021
Published Lightboxes are a great way to share content with external recipients. When publishing users have the option of adding a password. But what if you, as an admin, want to ensure that all content shared in this way is password protected? You can now do this via the Published Lightbox configuration options. You can find these here:
Admin > Publishing > Lightbox Publishing Actions (tab) > "Update Lightbox publishing settings"
You will then see the new option that allows you to make passwords mandatory for all Published Lightboxes.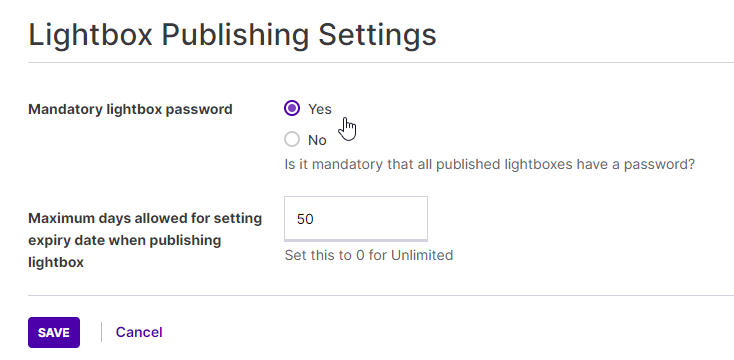 Note, you can also set the maximum period before a Published Lightbox is unpublished and becomes unavailable to the external recipient.
New Feature: Download Original
Sep 2021

For those who have the permissions to, we've added the new 'Download Original' button to the assets details page. It's a small change that can make a big difference to the way you retrieve your assets.
New Options for Asset Transformer
Oct 2020
The Asset Transformer Module is a powerful tool for repurposing images stored within Asset Bank for your public-facing websites. To improve the usability of the module we've included all-new options:
Define the compression of returned JPEGs to help optimise images for your website, improving deliverability, performance and SEO ranking.
New PNG and WEBP formats allow you to maintain the transparency of repurposed images.
None of the above options require any additional configuration within Asset Bank, merely a parameter appended to the URL to retrieve the asset.
New Feature: Shutterstock Integration
Oct 2020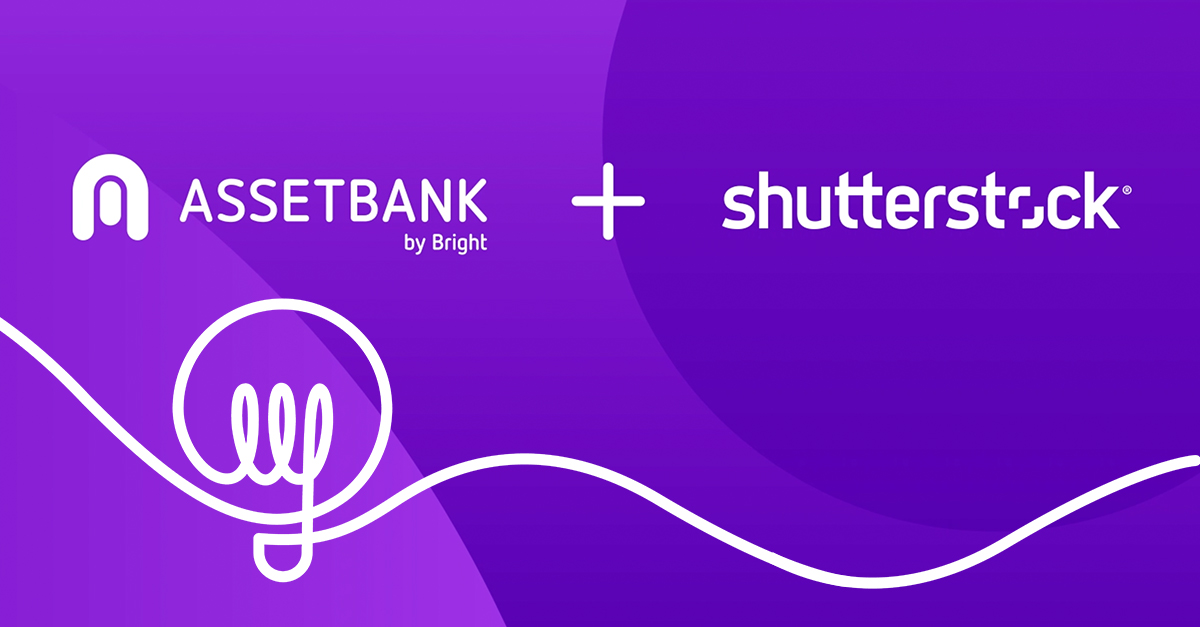 Automatically sync your Shutterstock purchases into Asset Bank. No configuration required, just log into your Shutterstock account and newly purchased images are imported into Asset Bank at regular intervals.
New Feature: Asset Zoom
Aug 2020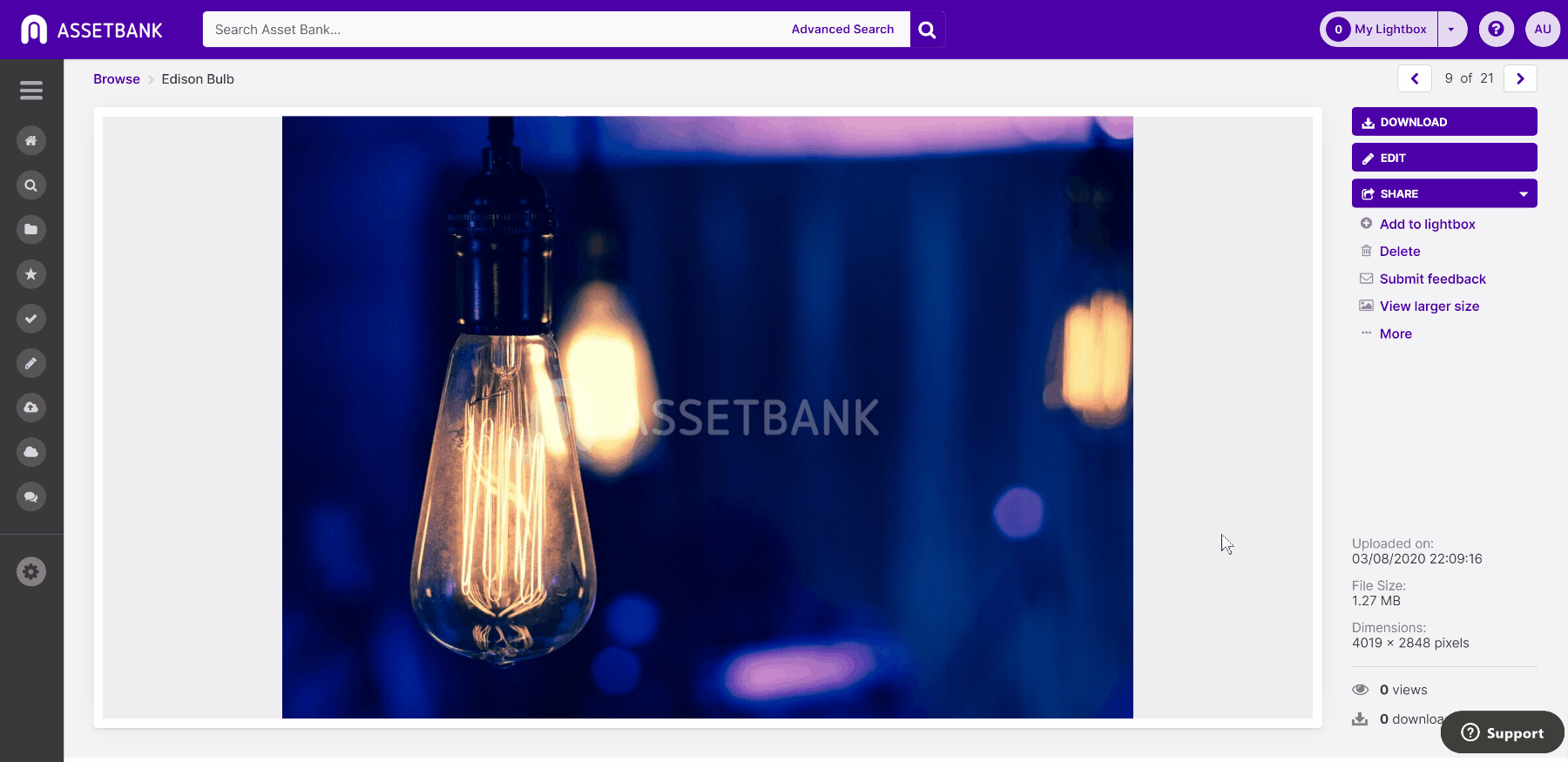 The devil's in the details so now you can see everything an image has to offer with full, in-app zoom functionality. Easily pan and zoom with your mouse, keyboard or the on-screen buttons.
New Feature: External Uploader
Jun 2020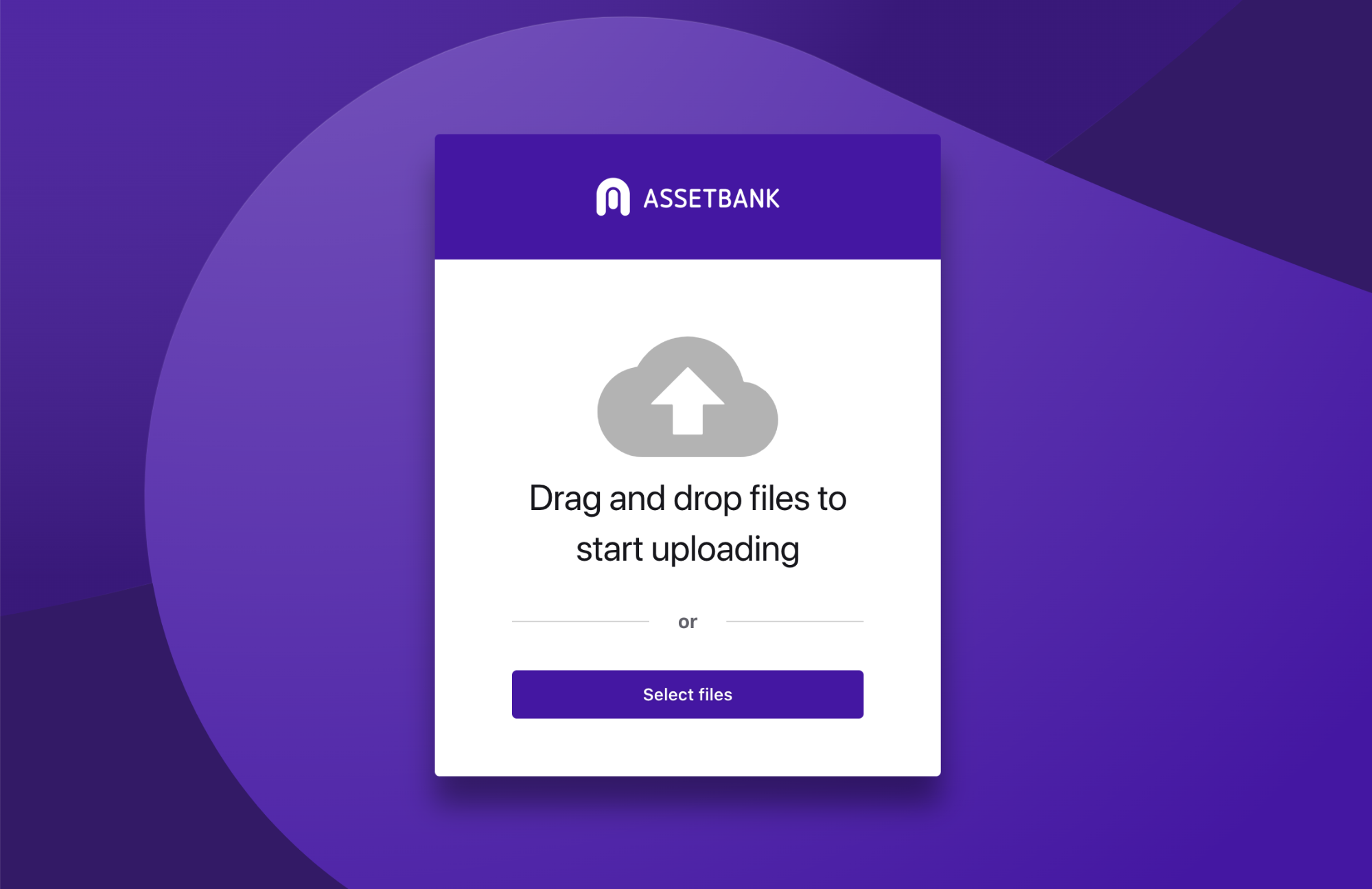 External Uploader allows contributors outside of your organisation to be able to upload to Asset Bank without needing a registered account. Perfect for ad-hoc or one-time contributors such as external photographers or third-party agencies.
Admins provide a unique link to an upload area which a contributor uploads to. The uploaded files remain hidden until reviewed and approved by an administrator user, at which point attribute metadata can be added just like a normal upload.
Read more about External Uploader here, or get in touch with the team to learn more.
New Feature: Filter Bar
Mar 2020
Filter Bar is our brand new search and browse feature that provides users with a streamlined way of narrowing their search results. Adding search criteria through the attributes in the Filter Bar will return results immediately on the page rather than needing to visit a separate screen.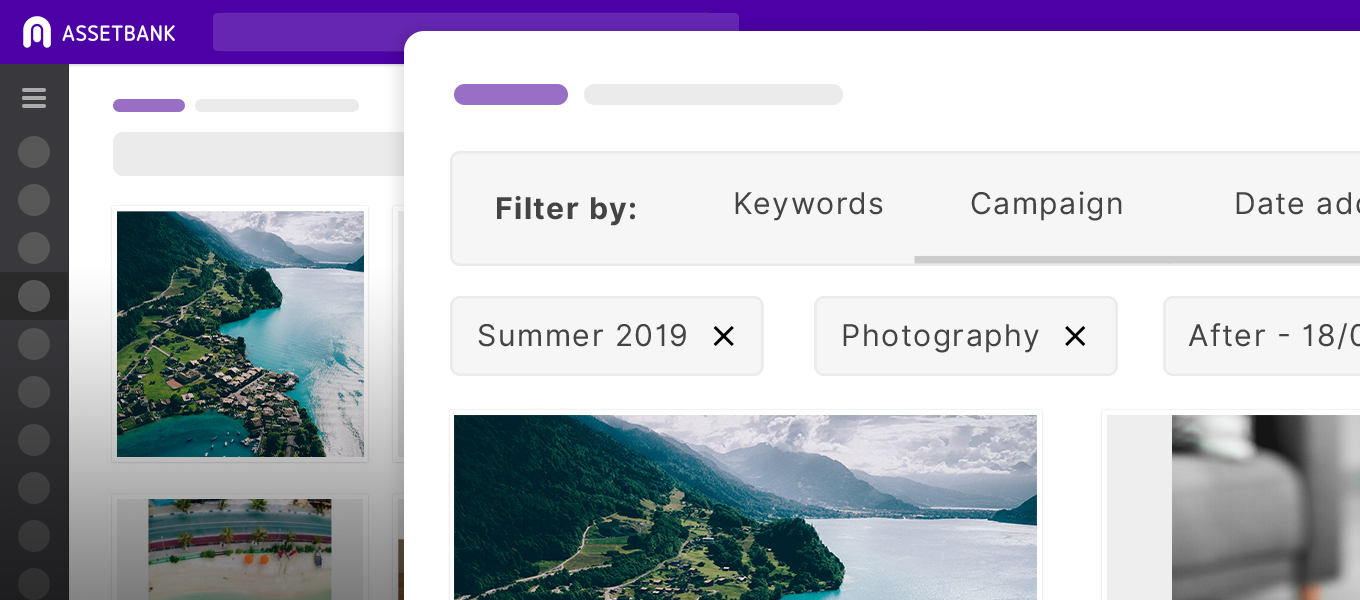 Find more information on how to configure your Filter Bar, please visit this article or get in touch with our Customer Support Team.
New Feature: Asset previews when sharing
Dec 2019
If you share a single image or video file via the Asset Bank Share feature (by email or URL), the recipient can preview the file before downloading it. This is useful if you want to share a large video file with many recipients who can view it in situ without having to download it first.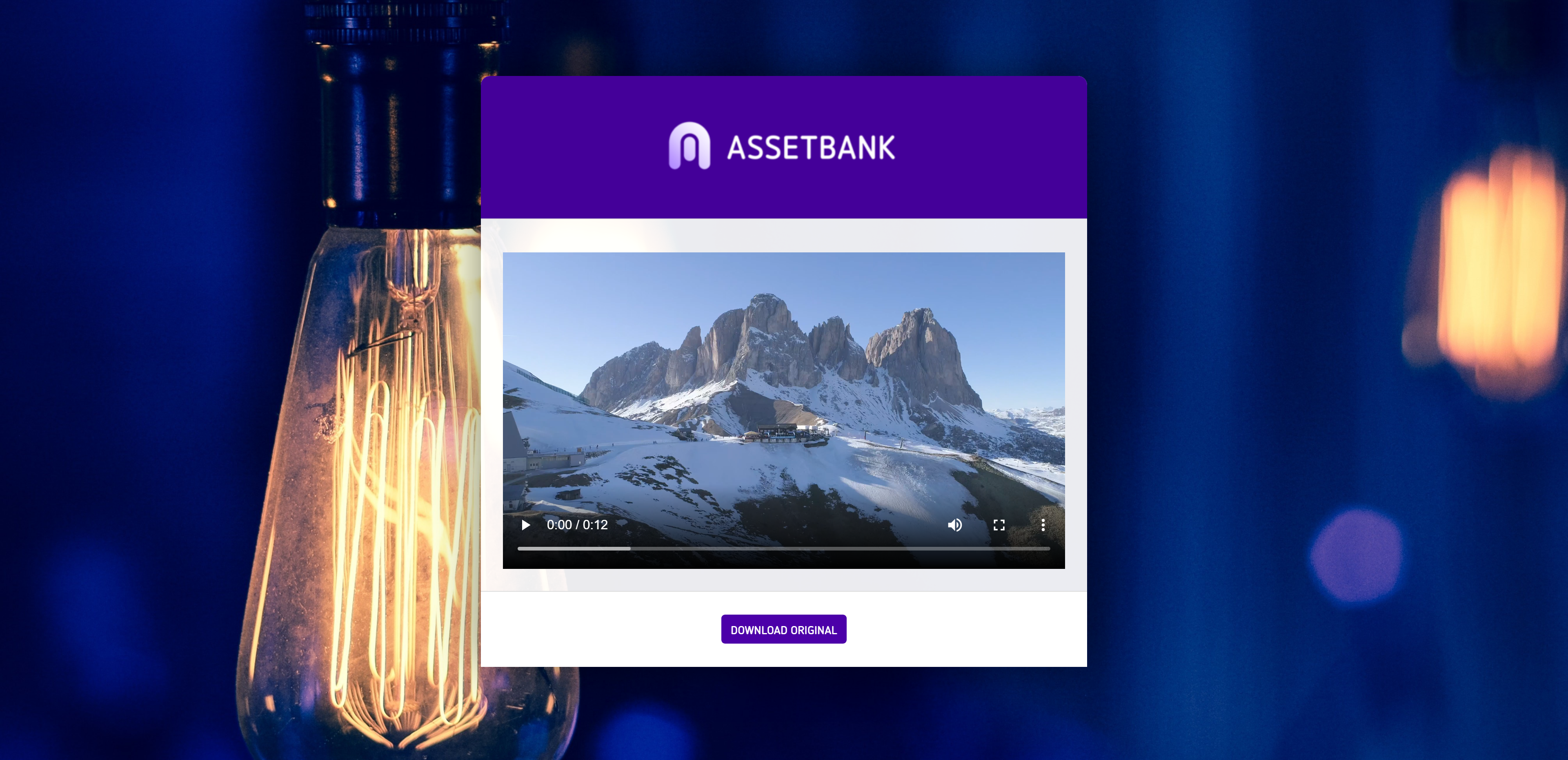 New Feature: In-app OAuth2 Management
September 2019
If you're already taking advantage of Asset Bank's API then you'll be glad to hear we've introduced OAuth2 management in the front end of the site. Under Admin > System you'll now see an API tab where you can manage your API settings and add new OAuth2 credentials.

New Feature: Change Default Language
August 2019
If your site has multiple languages enabled you may find that the majority of your users wish to use the second language as default. Now you can change the default language of your site in the Languages page.

New Feature: Admin Dashboard
August 2019
Admin Dashboard provides administrator users with quick access to important information such as pending available storage, active users/user allowance, outstanding approver tasks, recent/failed searches, user activity information such as download, upload and login data and more.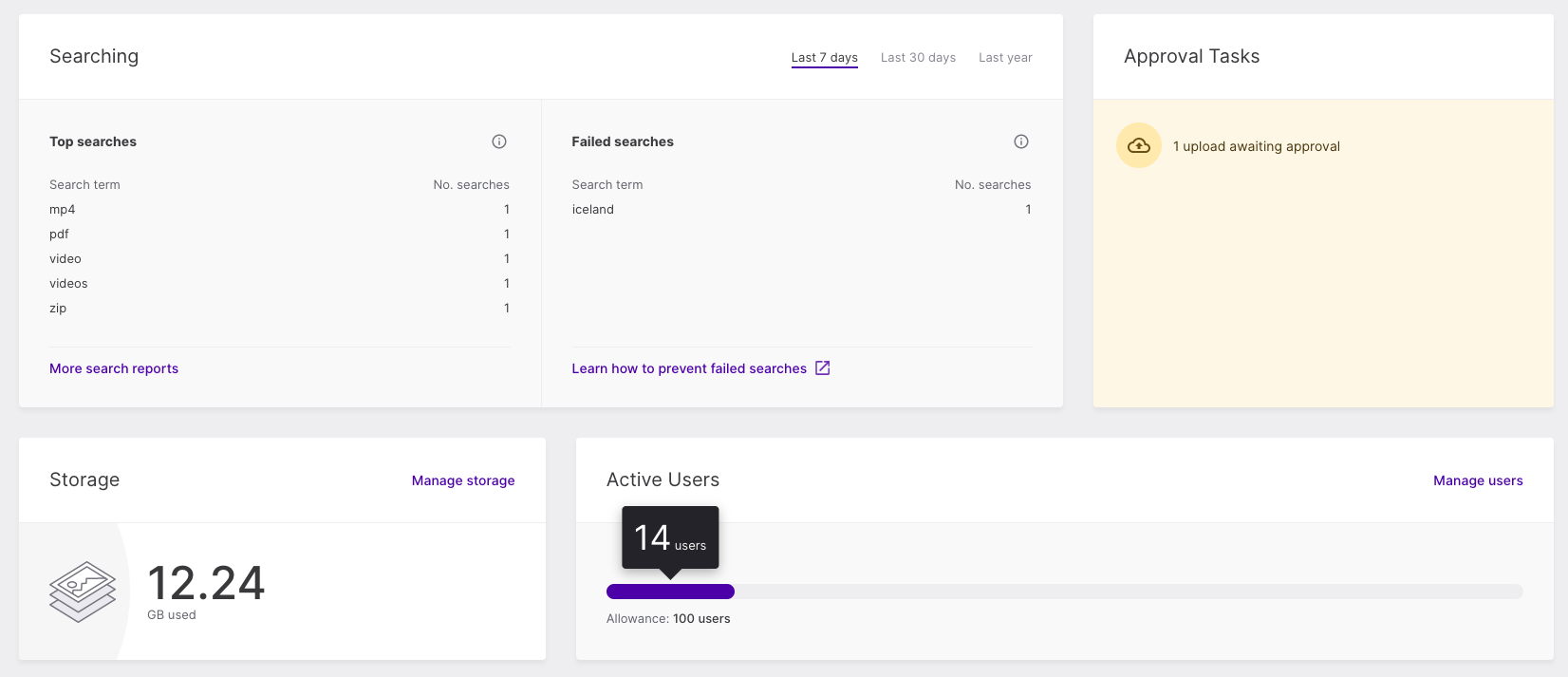 Admin Dashboard is available for customers hosted on our Cloud Hosted Service at no extra charge, and is accessed via the admin tools (Admin > Dashboard). If you'd like to learn more please get in touch with our customer support team.
UX Improvement: Fixed Header
August 2019
We have introduced a fixed header which makes it easier to access important features like quick search, lightboxes, search filters (if enabled) and your user profile.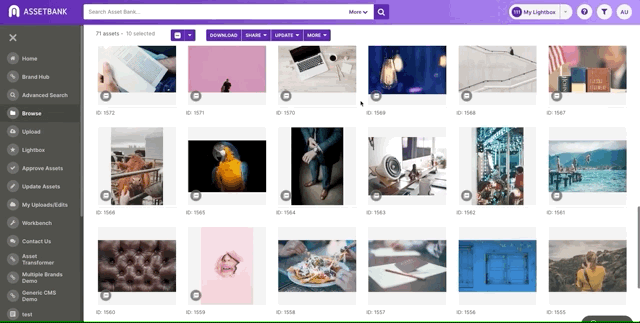 The fixed header also captures system notifications and the selection bar when browsing through your assets.
New Feature: Export Categories/Folders/Keywords
August 2019
It's now possible to export a full list of your Categories, Folders or Keyword Attribute Lists as a .tsv file. Simply navigate to any of the relevant admin screens for those features (i.e Admin > Folders) and you'll see the option: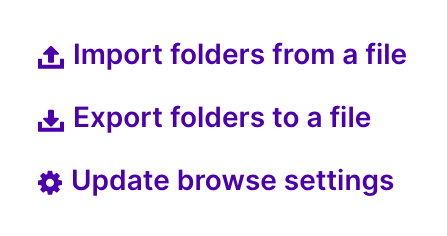 You can open this file in Excel or a text editor to view, or edit and re-import using the 'Import xxx from a file' option.
Improved Stemming for Search & Keywords
June 2019
You can now change the algorithm Asset Bank uses to match plurals or similar words when searching.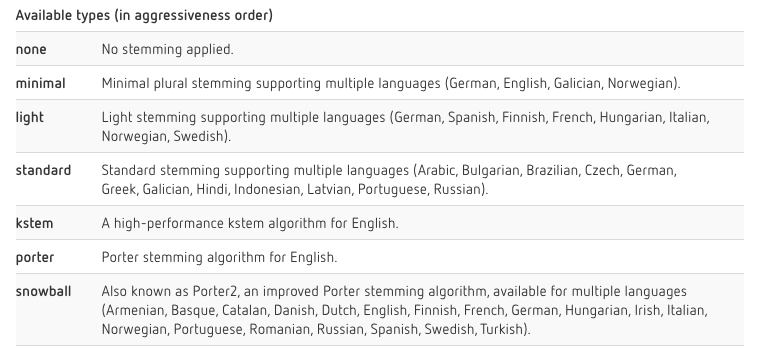 These options are available to Admin users in Admin > System > Search Settings
Introducing the new Asset Bank homepage
Jun 2017
We've made it easy for your users to find the assets they need, as soon as they login.
The new Asset Bank homepage is the culmination of months of UX research and development, and it shows. Featuring several major design enhancements and a stunning full-width layout, the new homepage provides users with instant access to the most relevant assets. Searching is now more prominent and browsing through folders and promoted assets has been re-designed to take advantage of the full-width of the page.
To switch over to the new full width design contact our support team today.
New Feature: Google reCAPTCHA
June 2019
We've added support for Google reCAPTCHA to prevent automated software from attacking your Asset Bank. reCAPTCHA appears on user registration, contact us and other areas of the site that might be prone to these types of attacks.
If you're hosted in the cloud with us you'll be automatically upgraded and don't need to do anything. On-premise customers can continue to use legacy CAPTCHA, or supply their own reCAPTCHA keys. Full details can be found in this article.
New Feature: In-App Support
June 2019
Administrator Users can now browse our Help Centre articles or contact the Support Team directly, via a new in-app Support Widget.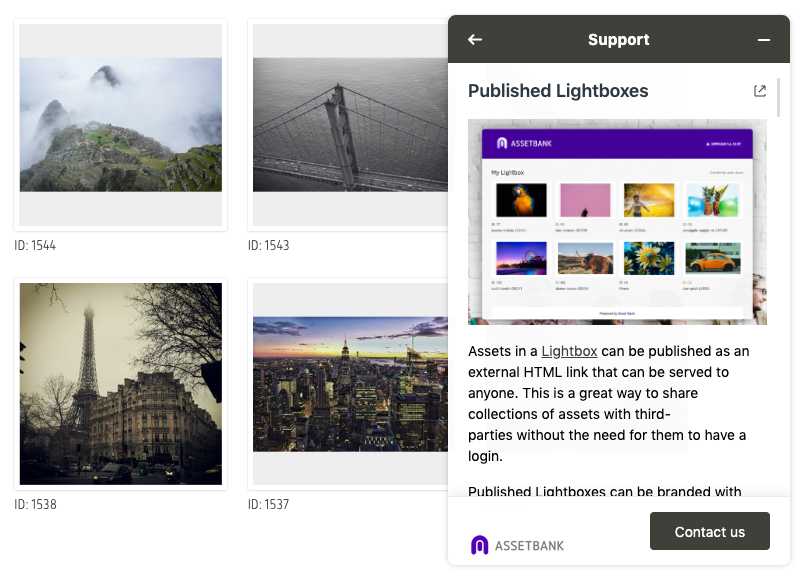 Simplified Relationship Assignments
May 2019
It is now easier than ever to assign related assets. On any search or browse page simply select the asset/assets you wish to assign a related asset to, then from the 'More' dropdown menu choose the Asset Type.

For more information, take a look at our support articles for Asset types, Relationships and how to assign them.
New Feature: Video/Audio on Hover
April 2019
Preview video and/or audio on browse & search results by simply hovering over the thumbnail.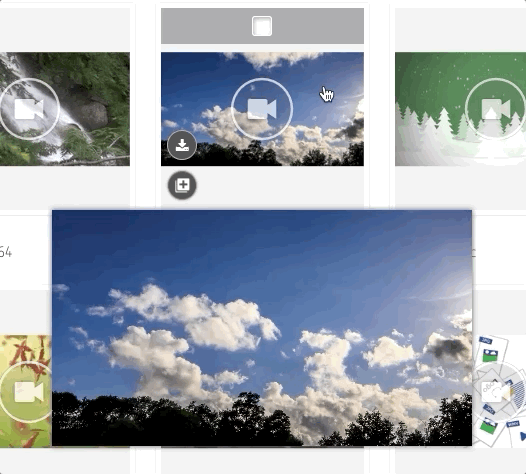 Admin users can enable this in Admin > System > Browse Settings
Protect your brand with BrandStencil
Please note that BrandStencil Integration is only available to customers who host with us and have a
Professional / Enterprise
subscription.
December 2018
Not everyone's a designer, and who says they should they be? BrandStencil saves time and protects your brand identity by ensuring consistency across all of your communications material.




Our integration with BrandStencil lets you use your Asset Bank content to build beautiful, bespoke web-editable templates at the click of a button.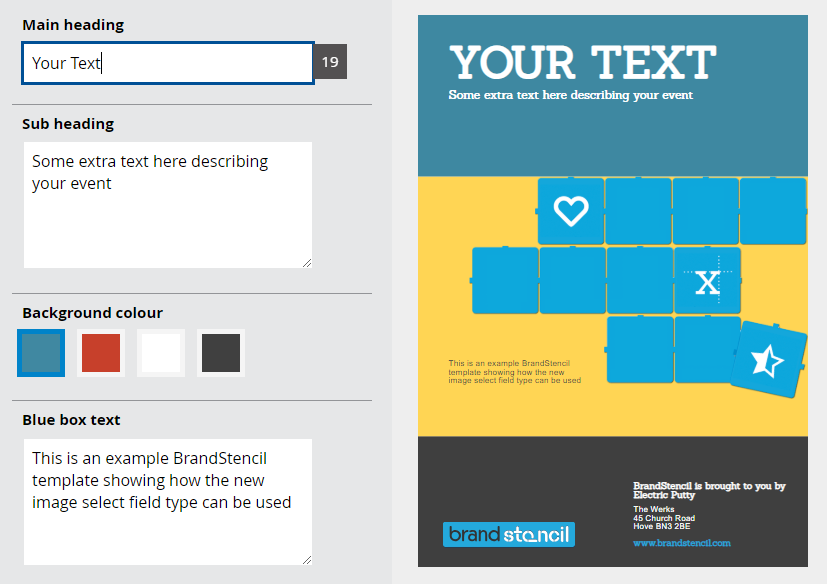 Get in touch with our Support Team to get started.
New Feature: Auto Tagging
October 2018
Asset Bank's new Auto Tagging feature extracts keywords from images at point of upload or update, saving time and effort when you need to tag lots of assets at once.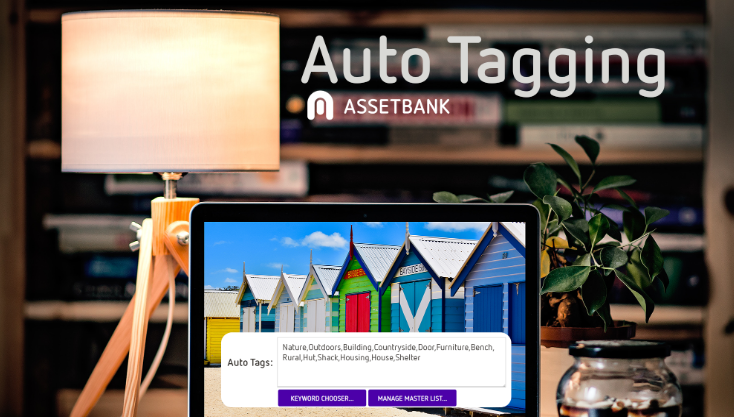 Auto Tagging is available to Professional/Enterprise customers hosted on our Cloud platform.