Streamline your creative workflows with Filestage
Are you are looking to to improve how you manage work-in-progress for your new creative assets? If so, you might be interested to hear that we have agreed a partnership with FileStage.
FileStage brings project managers, designers, and approvers together to streamline your collaboration, review, feedback and approval processes — activities that typically occur before the approved files are added as new assets to your Asset Bank. Our goal is to help support all your digital asset workflows, and we are excited about extending the solutions we offer to help in this area.
We are currently looking for earlier adopters to start using FileStage and to help shape the user experience, so that Asset Bank and FileStage work together seamlessly.
If you are interested then please get in touch.
Feature your video assets
Dec 2017
It's now possible to bring your homepage to life by featuring video assets.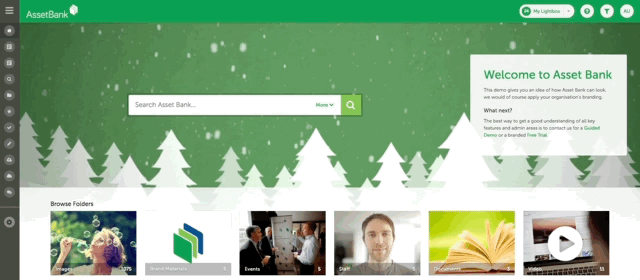 Choose between two configuration options: videos can play and loop automatically in the background (great for short clips with no audio), or users see a play/stop buttons and a volume control which is ideal for brand expression videos.
Read about how to Feature your assets in this support article, or get in touch with our support team today to learn how to optimise your video assets for use with this feature!
Automatic Upgrades
Nov 2017
Say goodbye to scheduled upgrades, as our cloud-hosted customers now benefit from the latest product enhancements and performance improvements without needing to schedule an upgrade.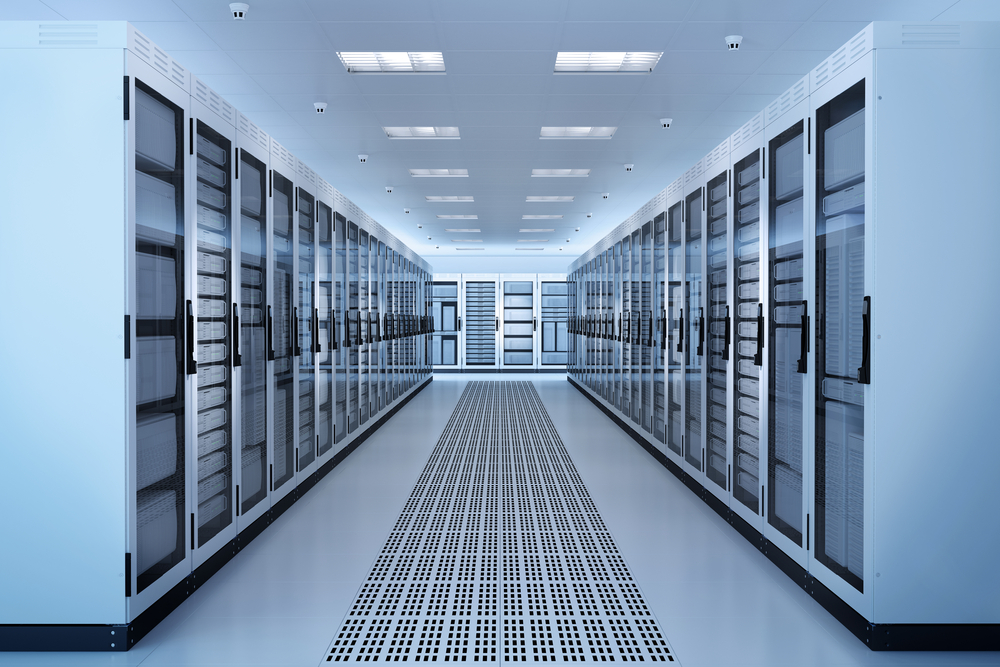 The great news is that all new core developments and features will be available for you immediately as standard. You won't notice any other difference to your site - just great product enhancements with no service disruption outside of your working hours.
Support for Microsoft SQL Azure
Nov 2017
We now support use of Microsoft SQL Azure as a database solution for clients who choose to host Asset Bank within Azure.
SQL Azure is a managed cloud-based database service with several advantages which you can read about here. It joins SQL Server & MySQL as available database solutions for Asset Bank.
If you'd like to learn more, get in touch with our support team today.
Passwords for published lightboxes
Aug 2017
We've made it simple to secure your shared assets.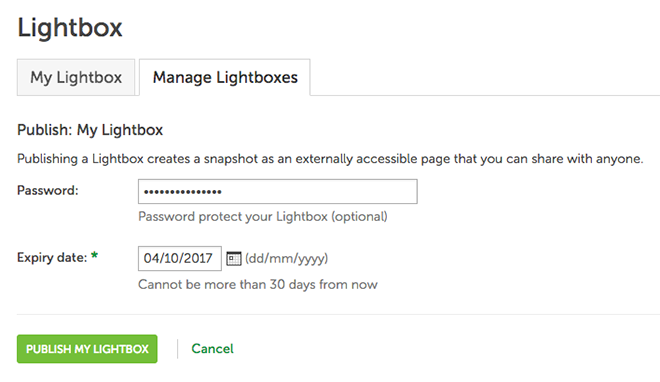 When using our Published Lightbox feature, it is now possible to add an optional password for additional security. Used alone, or in combination with an expiry date, you can now be sure that only the intended recipient will be able to access the assets you have selected for them.
Enhanced support for transparent images
Aug 2017
Full transparency contained within images and design files is now supported.

We've enhanced our support for all major file types that contain transparency, including PNG, PSD, AI, and PDF. As per the convention, we now show a checkerboard background to indicate which areas of the image or design file are transparent. This enables your users to quickly and accurately identify which files contain transparency.
Larger previews on published lightboxes
Jul 2017
It's now easier than ever to share assets with third parties.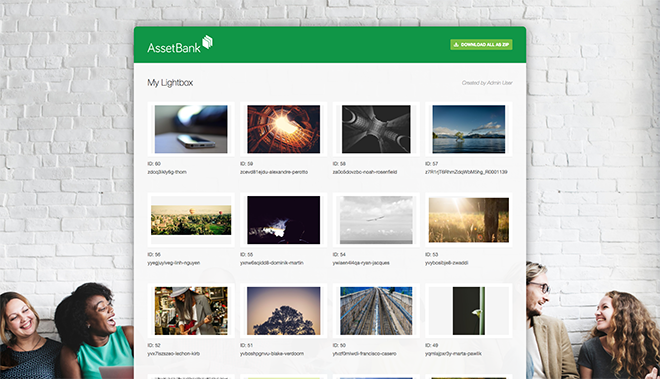 The ability to quickly and professionally share your assets with people outside your organisation is a vital capability for any DAM system. We call this feature Published Lightboxes, and as part of our latest round of enhancements, we have increased the size of the preview images to help make it easier for the recipient to find the right file.
API support for OAuth 2.0
Jul 2017
Developing API integrations with Asset Bank is now even more straightforward and secure.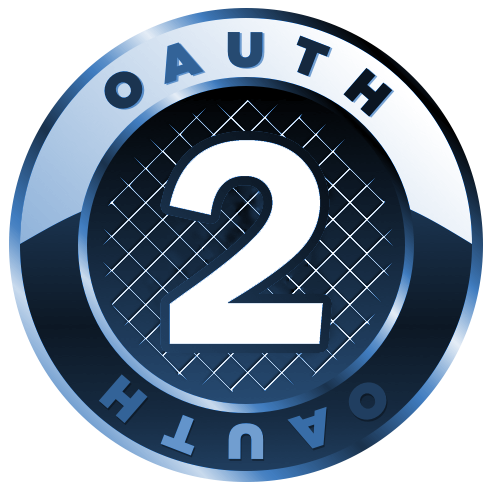 Building on the strong foundations of the Asset Bank Rest API, we are delighted to announce that we have now added support for OAuth 2.0 authentication. Without doubt, OAuth 2.0 has become the industry standard for API authentication and is widely regarded as a must-have for any and all API integrations.
Take a look at our OAuth 2.0 Workflow documents for more information on this topic, or visit our API documentation to learn more about the capabilities of our REST API.
New options for your homepage search
Jun 2017
We've enhanced our homepage search, making it bolder and easier to read over your featured images.

Or if you'd prefer for the search bar to appear in the header, we can configure that for you.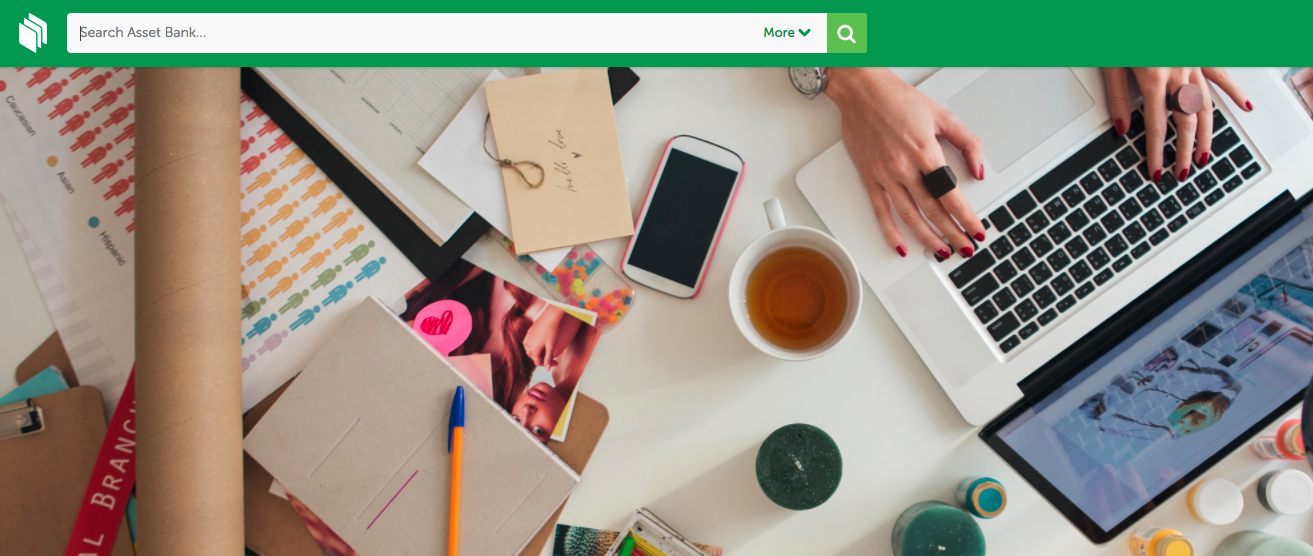 If you've recently moved to the new design and would like to take advantage of the above changes, please contact our support team today.
Introducing the new Asset Bank homepage
Jun 2017
We've made it easy for your users to find the assets they need, as soon as they login.
The new Asset Bank homepage is the culmination of months of UX research and development, and it shows. Featuring several major design enhancements and a stunning full-width layout, the new homepage provides users with instant access to the most relevant assets. Searching is now more prominent and browsing through folders and promoted assets has been re-designed to take advantage of the full-width of the page.
To switch over to the new full width design contact our support team today.
Asset Bank gets a full-width layout
Jun 2017
Our new full-width layout helps your users find their assets faster than ever.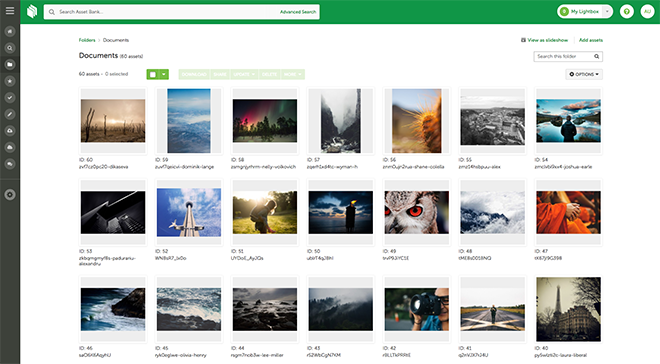 Browsing, searching and viewing assets are some of the most common tasks for DAM users. Moving to a full-width layout has allowed us to get up to 30% more images on the page, giving users more choice when browsing and searching. We have also been able to increase the size of the preview image so that more detail can be seen prior to download. The new layout features support for mobile devices.
To switch over to the new full width design contact our support team today.  
Enhanced navigation
May 2017
Finding your way around Asset Bank is now easier than ever.
As part of our ongoing work to improve the user experience of Asset Bank, we have made several big enhancements to the navigation. The sidebar menu allows users to minimise navigation elements that are not frequently used, creating more space on the page for browse and search results. Each user's navigation preferences will be remembered throughout their session, meaning that they can work with Asset Bank in the most efficient way for them. For convenience, search, lightbox and other common items are now available in the header.
To switch over to the new full width design contact our support team today. 
Microsoft Office integration
May 2017
Quickly preview Microsoft Office documents online without having to download them.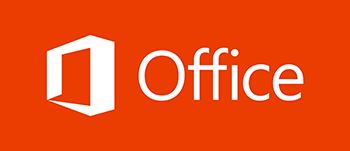 Our new Microsoft Office integration allows users to preview PowerPoint, Word and Excel documents directly within Asset Bank. Taking advantage of Microsoft's Office Online viewer, users can now scroll through multi-page documents and even view a Powerpoint slide show online.
To enable this integration please contact our support team today.
Shift+Click Selection
Apr 2017
We've made it easier for users to work with sets of assets.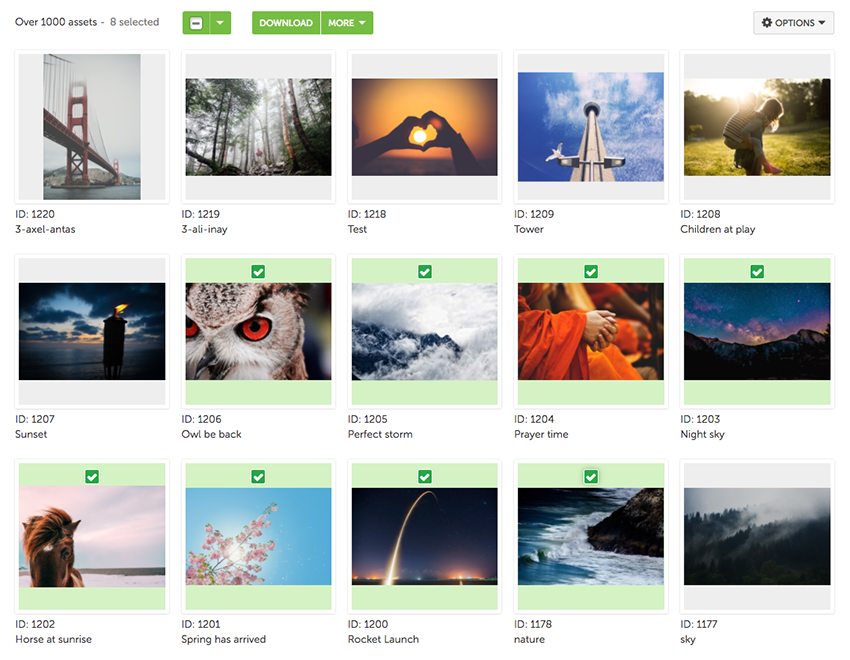 Our UX team are constantly striving to improve the User Experience of Asset Bank and our new Shift+Click Selection feature is a great example of this. Accurately selecting hundreds of assets can now be achieved in just two clicks, giving your users a faster way to achieve their goals.
PDF Previews
Mar 2017
Allows your users to read PDF files without the need to download them.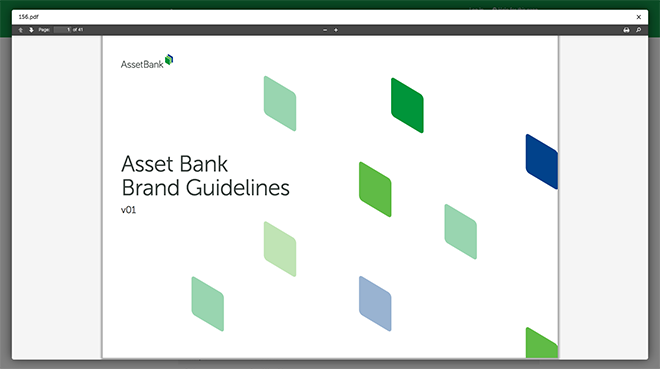 We challenged our design team to come up with an all-new experience for viewing PDF files in Asset Bank, and they have delivered! Our gorgeous new PDF Previews provide your users with an unparalleled, full-screen preview of all your PDF assets.
Amazon CloudFront CDN
Jan 2017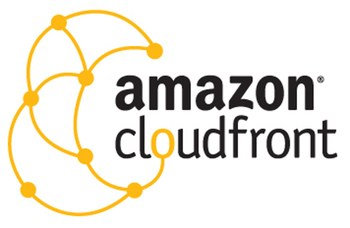 Content Distribution Networks (CDNs) reduce the amount of time that users wait for web content to load by serving their content from data centres close to their physical location. In practice, this means that users will be able to browse and search for images and other files quickly, no matter where in the world they are located. Amazon CloudFront CDN is now available for Asset Bank.
To enable CDNs please contact our support team today.
SharePoint integration
Dec 2016
The SharePoint integration for Asset Bank provides you with the ability to automatically publish any of your Asset Bank assets to any of your SharePoint document or picture libraries. It is also possible to individually select and publish assets directly into SharePoint, giving your users the maximum flexibility to create great SharePoint content. The integration works with SharePoint 2013 and 2016 on-premise editions.
WordPress integration
Dec 2016
Give your WordPress users instant access to the images they need.
WordPress is one of the most popular and easy-to-use blogging systems out there, and we are delighted to announce that Asset Bank customers can now easily use their assets when writing WordPress posts and content. Our new WordPress integration allows WordPress users to connect directly to their Asset Bank while editing posts. They can then browse, search, select and use Asset Bank images in their WordPress posts.
Drupal integration
Dec 2016
Give your Drupal users instant access to images from Asset Bank.
Drupal is one of the world's most widely used open-source content management systems. We have developed a new Drupal integration for Asset Bank which allows Drupal users to quickly access and use approved images from Asset Bank without the need to download or upload.
Sitecore integration
Nov 2016
Sitecore is one of the world's leading enterprise Content Management Systems and we are delighted to announce that Asset Bank customers can now easily use their assets when working with Sitecore content.
The new Sitecore integration for Asset Bank allows Sitecore users to browse, search, select and publish Asset Bank images and videos from within Sitecore. Asset Bank assets appear natively in the Sitecore media library, providing Sitecore users with an immediately familiar experience and leaving them to focus on the important job of selecting the right images for their content.
Enhanced browse and search panels
Oct 2016
At the forefront of our user experience changes in this release are the updates to our browse and search panels. We have placed the focus of browse and search around the assets themselves, by increasing the size of the thumbnail previews and increasing the width of the page we have improved the density of assets seen at any given time.
On the panels themselves there are new links to "Add to lightbox" and direct download, which are revealed on hover.
Consistent search and browse actions
Oct 2016
We have implemented a new action toolbar which contains actions that can be applied to multiple assets.Users will now see the same consistent actions for both browse and search results pages.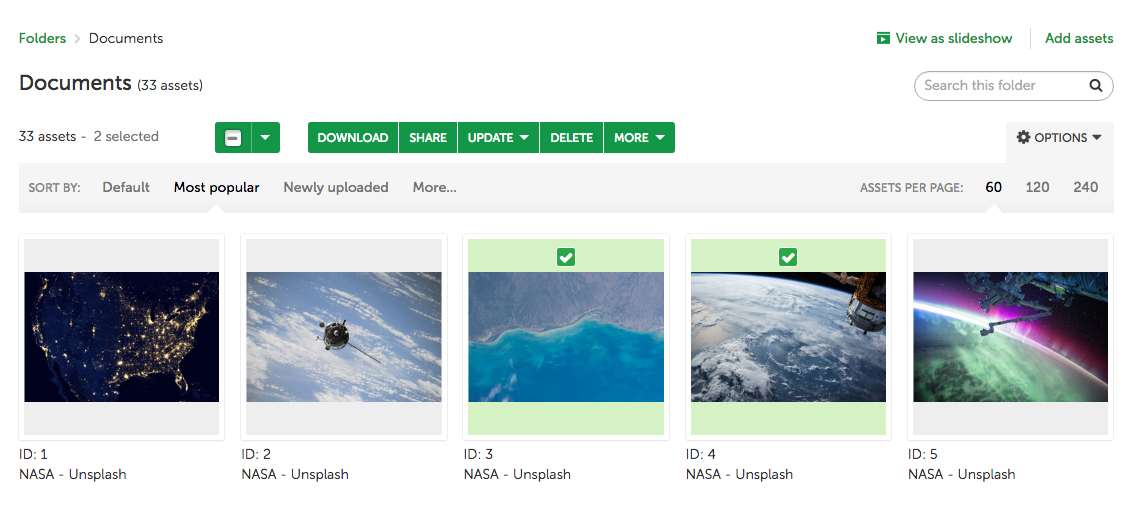 New bulk selector control
Oct 2016
The bulk selection controls have been simplified into a neat module which can now support both selecting assets across a folder and also their sub folders.

Quick sorting shortcuts
Oct 2016
The sorting options for browse, search and the lightbox now contain a list of shortcut links to quickly arrange your assets.

Advanced sorting options
Oct 2016
The existing advanced sorting options are still available by click the 'More...' link on the options bar (as seen above). The visual design has been improved and provides a handy tooltip to show how the assets are being ordered.

Increase in default assets per page view
Oct 2016
The options available for browse and search results pages are now consistent. The new default assets per page size is now 60. To change the number of results seen, simply click the options button on either the search or browse pages.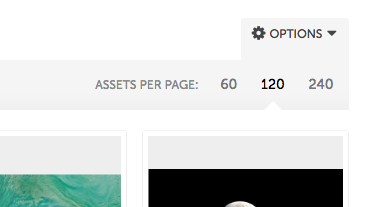 Enhanced empty/default thumbnails
Oct 2016
The old default thumbnail icons have been replaced with a more flexible vector graphic that will show the file extension for any file for which a preview cannot be generated - this includes empty assets.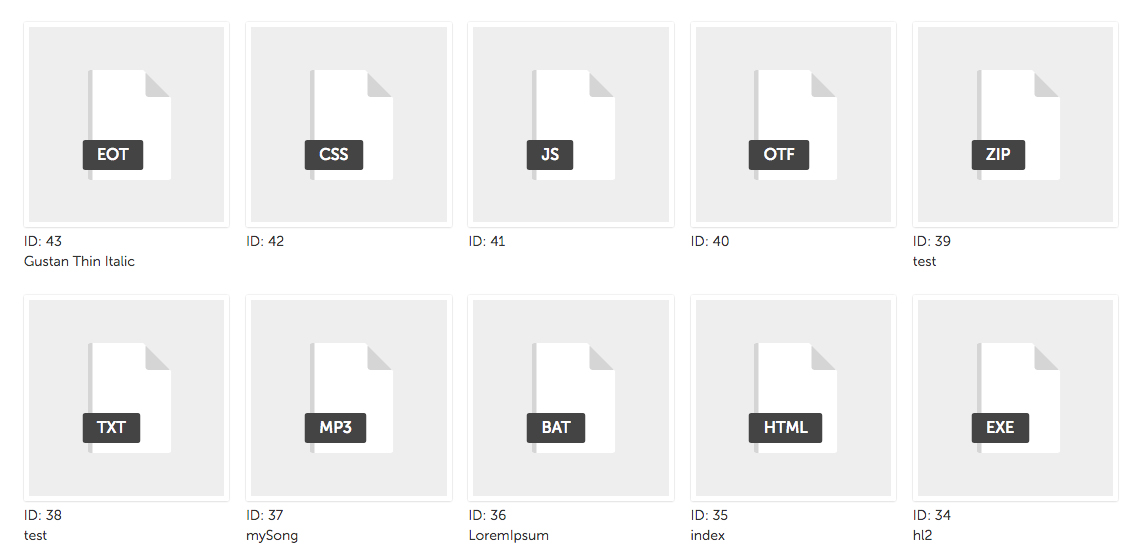 Reworked page headings
Oct 2016
Much of the unnecessary space has been removed from the top of the browse and search pages; this allows us to fit more results on the page and make them more readily visible to the user. To keep consistency we have duplicated the changes on the asset detail page.

Larger images on Asset detail pages
Oct 2016
We have increased the default size of images on individual Asset pages, bringing higher detail and removing unnecessary white space.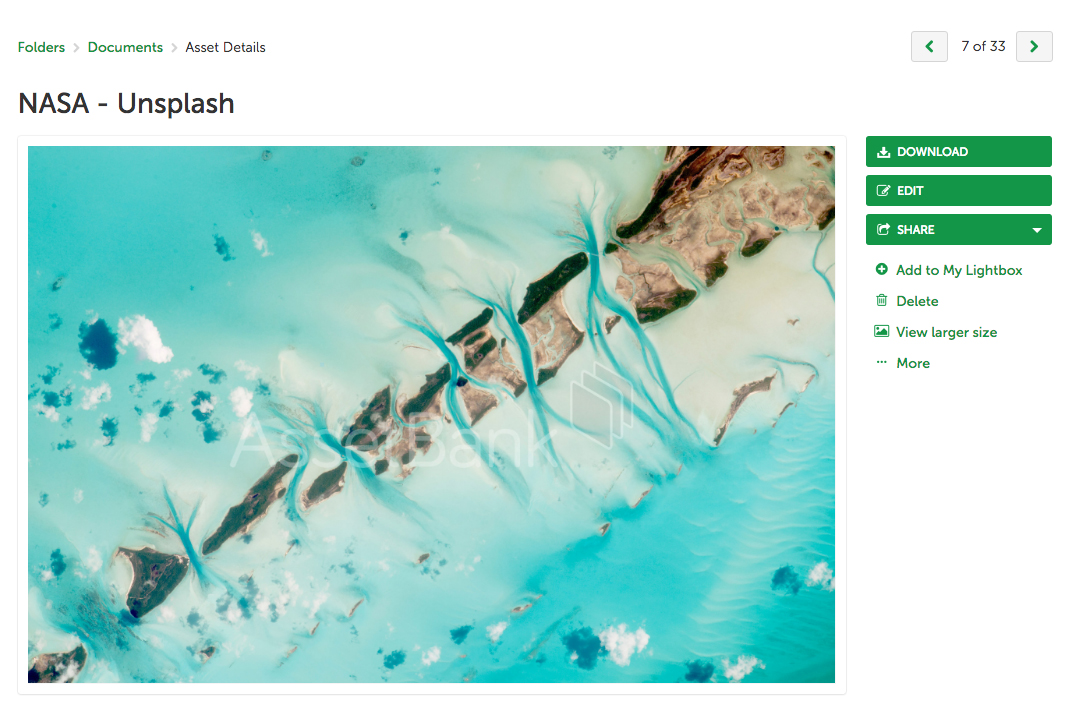 Revamped Asset actions and links
Oct 2016
We've reworked the asset detail buttons and links based on analysis of user data. We have kept commonly used actions as buttons and placed the additional functionality into links. To reduce visual noise in this area we have shifted lesser used actions into a dropdown menu under "More...".