1. Overview
1.1 Introduction
This article describes the Asset Bank Customer Support Programme. It sets out our commitments to you, how we handle your requirements and the associated costs involved.
This programme should cover everything you need to keep your Asset Bank running smoothly, including help, upgrades, consultancy and defect resolutions.
If you have any questions or comments do contact us and we will be happy to discuss.
1.2 Why join Customer Support?
Asset Bank is a functionally-rich web application. When implementing any new business application, we recommend you budget for ongoing maintenance, upgrades and improvements to ensure its value to your business is maintained and increases over time.
Customer Support is built-in for all customers who host with us, and it is strongly recommended for any customers who choose to host Asset Bank themselves - we believe an On-Premise Customer Support plan is essential for any Asset Bank that is mission-critical.
Some of the benefits of joining our support programme include:
Your calls and emails will be prioritised by our team who are on hand to answer any queries or issues, with guaranteed response times.
There is a clear procedure for handling your requests, including access to training & consultancy to support your plans and decisions.
Easy access to product upgrades, ensuring your Asset Bank stays up-to-date and meets future needs.
Most importantly, through customer support we demonstrate our commitment to keeping your Asset Bank running smoothly.
1.3 What's included?
Our Customer Support Programme includes the following:
A dedicated support team located in Brighton, U.K. - contactable by phone, email or our Zendesk ticketing system.
Product upgrades – so you benefit from new features and enhancements.
Administrator help – to support your administrators with their ongoing management of the system (Fair Use Help policy applies).
Defect resolutions - with guaranteed response times, as per our Service Level Agreement (SLA) outlined below.
We also provide a range of consultancy services such as data migrations, configuration, training, and advanced technical support. We will recommend these services where Fair Use Help is not sufficient for your needs and this enables us to provide more intensive, tailored support.

2. Our services in detail
2.1 Product upgrades
Asset Bank is continually evolving, and customers in support receive product upgrades which cover:
New product features and enhancements to existing functionality
Security updates
Resolutions to software defects/bugs
Continued product upgrades will ensure that your Asset Bank remains leading-edge and meets the growing needs of your business and users. You can read about features available to new versions of the software here: https://www.assetbank.co.uk/features/latest/
Please sign up to our quarterly news updates if you would like to receive the latest Asset Bank news, security announcements or would like to shape new feature and product development. https://www.assetbank.co.uk/contact/news-updates/
Our cloud customers automatically receive the latest version of Asset Bank as soon as it's released. If you have an on-premise installation of Asset Bank and you are due an upgrade, please email us at support@assetbank.co.uk.
2.2 Administrator Help
Our Customer Support Programme includes the provision of help for users who have attended an Asset Bank training course and feel comfortable with administering their site. This help includes:
Questions about day to day administration and configuration.
Investigation into queries around possible defects.
Initial investigation into requirements for consultancy or training, or a short administrator consultancy call.
Initial investigations into technical configurations such as API, SSO setup or data migrations.
2.2.1 Fair Use Help policy
We operate a 'fair use' policy for administrator help. We reserve the right to renegotiate your support fee and/or to charge according to our Time and Materials policy (defined below) under any of the following circumstances:
For Cloud customers:

If we frequently receive questions that are already answered in either product documentation or knowledge base articles, or where the administrator user has not attended an Asset Bank training course.

For On-Premise customers:

Where changes have been made to the ApplicationSettings.properties file, JSP files, CSS stylesheets or any other file outside of the terms of the Asset Bank software license.

Where the amount of time we spend supporting you is high due to the lack of, or difficulty of, access to your servers.

For all customers:

Where the request falls outside the reasonable scope of support and is considered consultancy. For example:

Queries that require detailed knowledge of the customer's assets, business or configuration/s and/or that request specific guidance that is outside the scope of providing guidance of how Asset Bank is designed to operate.

In depth investigation and resolution of issues relating to the API or 3rd party integrations, for example with a CMS (Content Management System).
2.3 Consultancy services
We aim to provide support for all of your changing needs. Where our Administrator Help service is not sufficient for the level of support you require we can work with you to provide additional support services. We offer the following packages:
In addition we offer the following services which are charged under an hourly rate (see 3. Time & Materials Policy for details):
Bespoke configuration, for example configuration to tailor Asset Bank to match your changing needs or help plan your taxonomy and work-flows
Data migration - including consultancy to manage the format of your data while you bring it into, or out of, your Asset Bank
Bulk Data Exports (i.e backup to physical drives or export to FTP servers)
Database conversions
On-premise server migrations (see 4.1 for full details)
API, CMS or SSO consultation and issue resolution
Updates to the branding of your Asset Bank
Data backup services, please see our Shared Hosting Service Description
2.4 Service Level Agreement (SLA)
Every Asset Bank has a built-in administrator account which we use to support you and your team. If changes are made to this account (i.e email, password, user information) or it is removed by anyone other than our support team, this will affect our ability to support you within the terms of the below SLA and may require us to suspend or change the terms of your subscription with us. For more information please
get in touch with our team
.

This SLA outlines our commitment to you for investigating and resolutions for software issues (defects) which may affect use of the platform. This does not cover issues relating to configuration that your administrator users are responsible for managing. Time-scales for resolutions depend on the severity of the issue.
All times mentioned are subject to our normal business support hours of 9am to 5pm in the United Kingdom.
2.4.1 Guaranteed start and target resolution times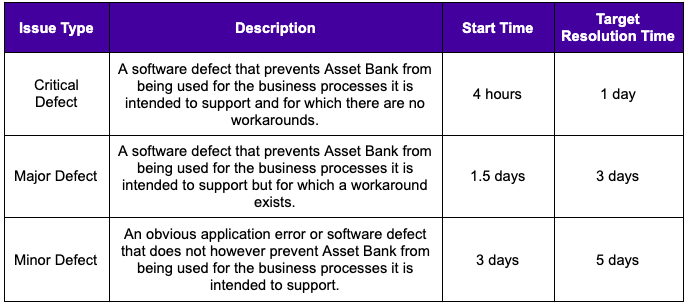 Table 1: Customer Support response times
2.4.2 Defect resolutions and workarounds
Defects will be assessed against the above criteria and we will provide a resolution or acceptable workaround for critical defects. Major and minor defects will be assessed against our internal prioritisation criteria and we will provide a resolution where deemed appropriate by us. We will always endeavour to provide a workaround where one exists.
2.4.3 Compensation terms
For each day overrun of the relevant target start time we will reduce the next month's support cost by 25% up to a maximum of 100%.
2.5 Out of hours support
Our standard support service is available 9am to 5pm UK working days (excluding weekends and bank holidays).
All our hosted Asset Banks are built on top of Amazon Web Services using the latest technologies, and fully managed by our dedicated in-house Infrastructure team. All sites are monitored 24/7 for availability at multiple levels to ensure our customer sites are accessible at all times.
On the rare occasion that our monitoring detects an incident outside of our standard support hours, a variety of technologies are in place to restore service automatically without any manual intervention. This includes both restarting and restoring the Asset Bank application itself, as well as migrating your application to a new AWS server if necessary, fully automatically.
Any critical issues that were not captured by these processes will be dealt with at the highest priority at the start of our next working day. Our support team are well versed in supporting international customers and so we will consider your timezone and ensure we give you timely updates and responses as quickly as possible.
3. Time and Materials Policy
All services that are not covered by your ongoing Customer Support Subscription fee will be charged at an hourly rate of £160 plus VAT (VAT non-applicable outside of the United Kingdom).
All requests are subject to a minimum charge of 1 hour per issue raised.
Additional support will be charged at the same rate, in blocks of 1 hour.
All costs after the initial hour will be agreed in advance and confirmed before work is started.
4. Support on your servers
This section is only applicable for customers who choose to host Asset Bank on their own server environment (on premise) rather than our cloud service, in addition to the above terms.
If you choose to host Asset Bank on-premise, you will need to identify a technical point of contact within your organisation. This person (normally a server sysadmin) should be familiar with the hosted environment, Asset Bank's technical stack and have both the authority & mandate to:
Provide us with access to your server environment (application, web, database server(s) as applicable).
Provide our support team with read/write access on your environment which allow us to make changes & upgrade the software on your environment when required.
Implement regular backups of the application & database files.
Manage your own updates to Java / Apache Tomcat / IIS / Apache Webserver, ImageMagick, Ghostscript and database (MS SQL Server / MySQL) as applicable.
Manage services related to your own domain(s) such as, but not limited to: DNS changes, installation or changes to SSL certificates & e-mail server forwarding.
Manage & troubleshoot SSO (Single Sign-On) within your organisation.
Manage the security & monitoring of your server environment.
Upgrades to new versions of the software are on-request, so you'll need to contact support and we'll schedule a date & time to perform the work on your behalf. This is to ensure that all updates are performed safely and successfully.
Therefore, our ability to support your on-premise instance(s) of Asset Bank is dependent on our access to your server infrastructure. If a persistent & secure access method is unavailable to us, we reserve the right to revoke any support services. This may include, but is not limited to our engineers encountering:
Multiple, ongoing issues with the resolution of access to your network.
Challenges with working remotely on your environment that prevent us from carrying out work in a reasonable timeframe.
Your application server failing to meet our on-premise system requirements.
Your designated technical contact(s) being unavailable.
On-premise customers are entitled to request up to 4 upgrades per calendar year.
We are happy to work with you to get the best possible remote access solution in place, or help facilitate a move to our cloud hosting platform instead.

Please note we do not support customisations to files within Asset Bank's webapp that have not been carried out by our team. If unauthorised changes are made which require us to investigate and/or resolution issues with your site, we reserve the right to revoke support services or charge on our Time & Materials basis to carry out the work.
All On-Premise Customer Support subscriptions are subject to minimum 12 month terms. As of 2019 we no longer offer on-premise support on an hourly basis, or the purchase of upgrades on an ad-hoc basis outside of a support subscription.
4.1 On-Premise Migration / Asset Bank Restoration Policy
From time to time, you may need to move your on-premise Asset Bank application to a different server, or you may need our assistance with restoring your on-premise Asset Bank from a backup, i.e if you have experienced a catastrophic server issue. We do not include our assistance with this type of work under your general support agreement.

We charge for this service at a minimum rate of £2,560 + VAT which covers 2 days (16 hours x £160) of Time & Materials work.
Prior to assisting, we would need to confirm access to the existing environment and/or a new server which meets or exceeds our on-premise system requirements.
We do provide basic guidance on how your team can perform a migration for Windows and Linux servers, but please note that these guides are intended for our customers who are familiar with Asset Bank's technical stack and are comfortable with making these types of infrastructure changes. In the event that your team choose to make the move yourself, something goes wrong and you require our assistance to resolve an issue (including support questions and/or direct assistance), we'd still need to charge you at our minimum rate.
Revision Date: 8th September 2020