January 2023
We've modernised the look of assets on the browse, search and lightbox pages. Not only have we improved them visually, but also made how you interact with assets a lot easier.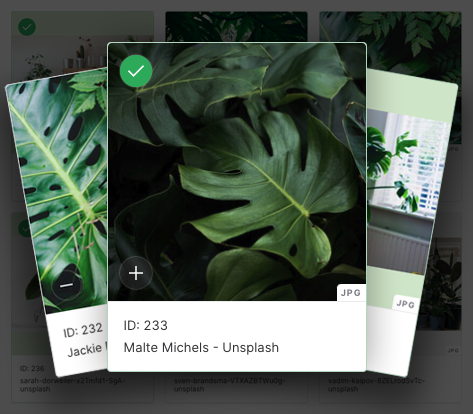 Here are a handful of key differences:
Improved visual relations - Assets and their metadata now have a stronger visual relation in a more modern panel layout.
Easier to interact with - Actions such as selecting or adding to your lightbox have been streamlined by increasing the button sizes.
Cleaner iconography - We've used simpler iconography that is much easier to visually digest.
Larger selection target - You can now click anywhere on the top of an asset preview to select that asset.
Clearer selected state - Both the thumbnail's background and the border of the panel now have a green selected state.
Increased thumbnail size - Thumbnails sizes have been increased ever so slightly and now align with the edge of the panels.
Smart preview - We've refined the area that triggers the 'preview on hover' feature (if enabled). Thus preventing unintended preview activation when interacting with other actions.
Cloud only