The CI HUB Connector is for Cloud hosted Asset Bank sites on Professional and Enterprise Tiers only.
Getting started with CI HUB
Then, to start using CI HUB, follow these steps:
1/ Please contact Asset Bank Customer Support to ensure the connector is activated for your Asset Bank.
2/ Register for a free trial account with CI HUB - fill in the form and then follow the email instructions to set your password.
3/ Install the connector for the relevant applications:
Connecting CI HUB to Asset Bank
Open the application you want to use (for example, InDesign) and then open the CI HUB extension (e.g. from the menu bar choose Windows > Extensions > CI HUB).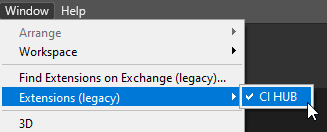 Log in to the extension using the username and password you created when you signed up for your trial.
In the extension panel, click the + symbol ("Add new connection") in the "Connections" section at the top.
You will then see a list of cloud storage providers - scroll down and click the "Show all" button.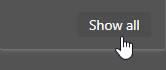 Then scroll down until you see "Asset Bank" and click on the tick box to add it to your list of connections.

Once done, click on the 'x' at the top to close the available integrations section.

You then have to click the 'Add new connection +' again, then click on Asset Bank in this shorter list.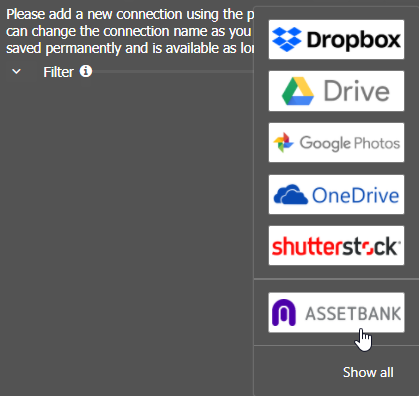 This will open a new window where you need to enter your CI HUB trial credentials. After this you will be asked to enter your Asset Bank Base URL.

To avoid entering the wrong URL, please copy and paste this from your Asset Bank as follows:
1 - Login to your Asset Bank
2 - Click the 'About' link at the bottom of your Asset Bank

3 - On the About page you will see your Base URL. This is what you need to copy and paste into the CI HUB panel.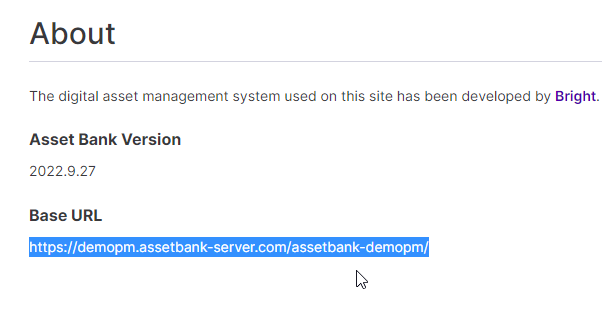 Enter your details and press Login, then log into Asset Bank using your normal username and password or SSO method.
How to use CI HUB
For instructions on how to use CI HUB, see the video tutorials on the CI HUB website.
We also have some details here: Interface Overview
More about CI HUB
View our
Overview
.