When dragging an image from CI HUB into Figma, you may hit an issue where Figma does not allow very large image files to be added.
To help solve this, you can have Asset Bank generate a large web version of the original image asset and drag this in instead.
To switch from downloading original files to a large web version, select the file you want, then click on the download icon at the bottom of the CI HUB panel (instead of dragging and dropping a file).

Then switch to the Large Web Version option in the panel that appears.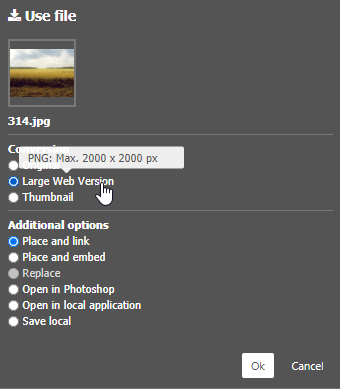 This will take the original file from Asset Bank, then convert it into a smaller web optimised version, prior to placing it into Figma.
Please note, this choice will then be in place until you change it back, even if you are dragging and dropping images into Figma.