Within Asset Bank there are a variety of different images used that you are able to customise in order to change the look and feel of the application.
This article gives an overview of some of the key areas that you may wish to update.
Changing the main image on your homepage
This is called the "featured image" and can be easily updated by an administrator: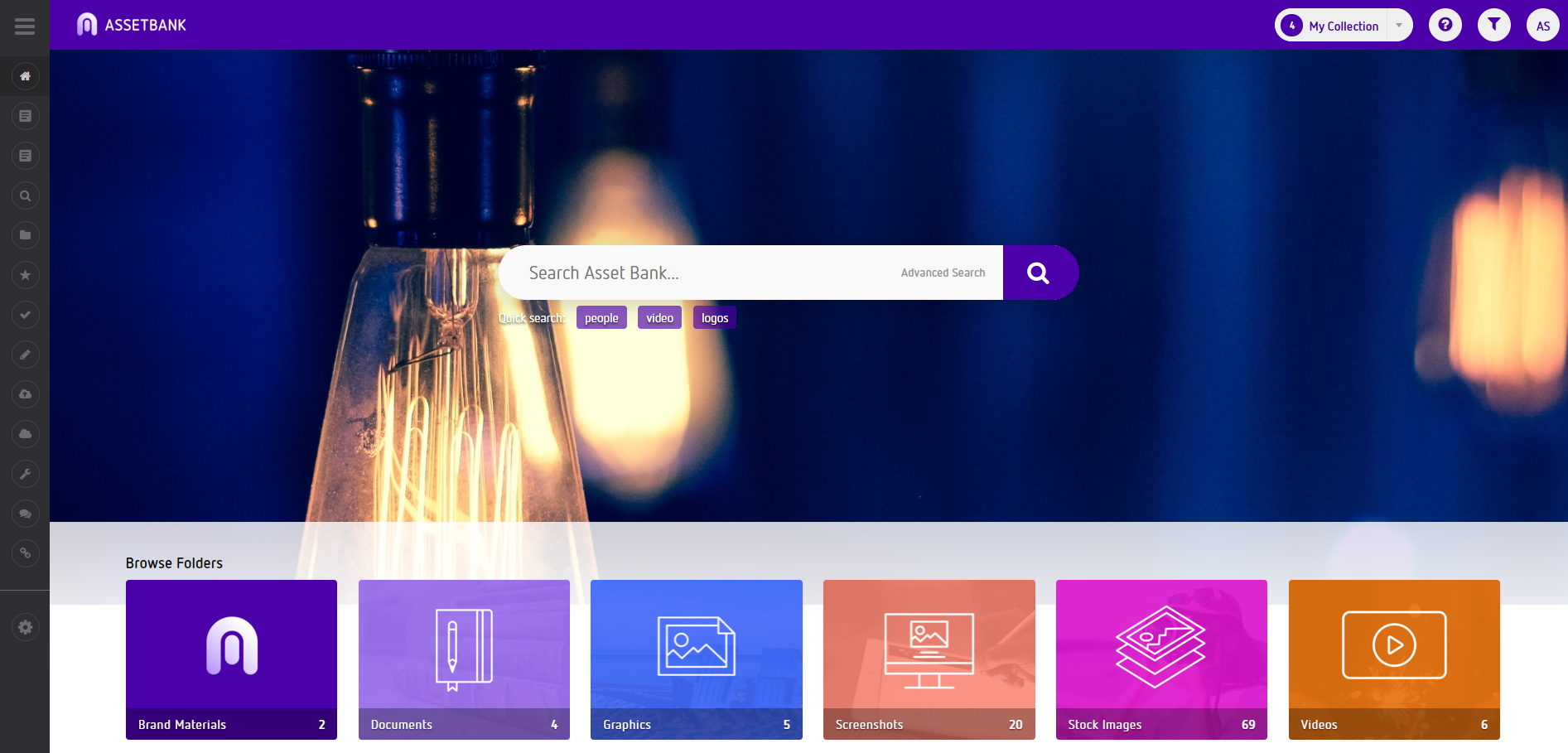 1. Firstly, make sure the image you want to 'feature' is already uploaded to your Asset Bank. If the file is not uploaded, you'll need to do that first.
2. Browse to the image and select the 'More' option, followed by 'Feature on homepage'.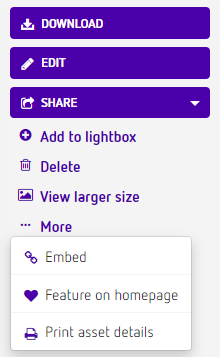 3. Select the relevant area, zooming if necessary, and click 'Save' to publish your changes.
We recommend that the images you feature are large (2650px width and 1200px height) to max sure all users see a high-quality image, even on the most modern devices.
For more guidance on this topic, view the article: How do I replace the featured asset on the homepage?
Change the fullscreen background image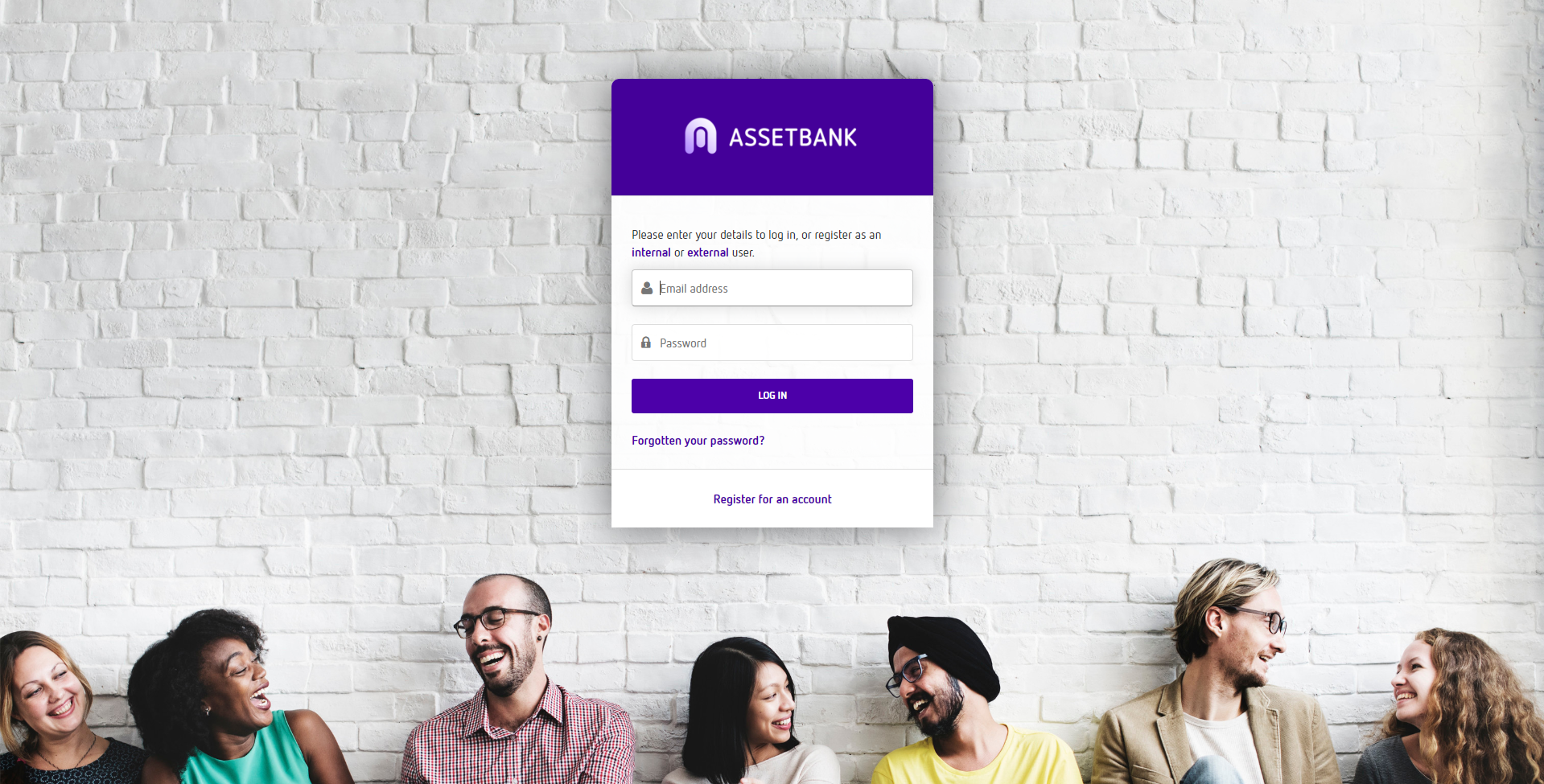 First impressions count! Make sure that the main background image you have configured is on-brand and visually engaging to help bring your system to life. This image is displayed on the login page and also published lightboxes.
1. It's quite common that these images are custom made or edited, so you do not need to upload this background image to your Asset Bank as an asset before setting it as your background.
2. As an administrator, browse to the following page: Admin > Content > Featured
3. On this page, you can click the link to Manage login/registration backgrounds
4. From here, simply add the image you want to use (we recommend at least 1920px width and 1080px height) and delete any existing backgrounds that you no longer want to use.
You can adjust the 'top margin' and 'left margin' values in order to change the positioning of the floating login box. This helps you to ensure you don't overlap a key part of the background image.
Adding images to represent folders and subfolders
An easy way to make your homepage easier to navigate is to add images to represent the contents of your folders.

1. Images uploaded for this purpose should be 255px wide by 193px high in order to ensure that they are displayed correctly without cropping. You do not need to upload these images to your Asset Bank before applying them to folders.
2. As an administrator, browse to the following page: Admin > Folders
3. From here, navigate through the folder structure to find the area you want to update, using the open button to browse down into subfolders.
4. Once you have located the folder/subfolder you wish to apply an image to, scroll down to find the 'Image' section and click edit and to choose the file you wish to apply.
As in the example above, adding an overlay or graphic can be a good way to aid user navigation. When using photography make sure the photograph represents the folder contents accurately!
Adding images shortcuts to your homepage
If you want to bring images to your homepage for your users to have quick access to certain files then you can achieve this by using a Featured Search or Promoted Assets.

Both of these features will add a strip of images to your homepage which is a great way to give access to your most in-demand assets, such as logos or photography for a recent product launch.
Still need help?
This article has covered the main areas where you can update imagery yourself as an administrator. Other areas of the application, such as the logo or watermark, need to be updated by the Asset Bank customer support team.