'*Public' is a user Group which can be configured to allow anyone to access Asset Bank without needing a user account.
When active, the login screen will be removed for anyone visiting the site. They will instead be presented with access based on the permissions an administrator has granted the '*Public' group in Admin > Groups.
Users who have an account can still log in to AssetBank using the link at the top right corner of any page

Although this group can be enabled or disabled, the asterisk in *Public denotes that along with *Logged In Users, this group is mandatory and cannot be deleted from your Asset Bank.
Any user on the site whether they are logged in or not falls into this group. So if a user has logged in they will be a member both the *Public and the *Logged-in users group.
Enabling the *Public group
Navigate to Admin > Groups and click on the 'Folder Permissions' link for the *Public group. By default you'll see that all folder permissions for this group are set to 'Cannot View'.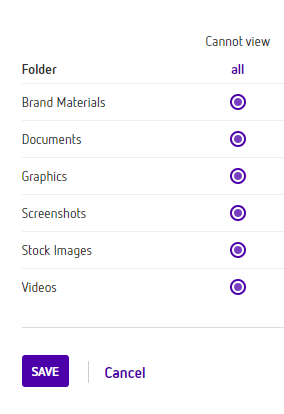 In the above example, if we were to change the permission for the Images folder from 'Cannot View' to 'View', we would expect that any user visiting AssetBank without being logged-in would now be able to view the Images folder and all assets within it.
They would not however, be able to view any assets within the sub-folders of Images (Unlicensed Images, Leisure, Nature, etc.) unless we also changed their permissions to 'View'.