Asset Bank Cloud platform and on-premise versions beyond 3.1828.16 are compliant with the following Web Content Accessibility Guidelines (WCAG) 2.1 Level AA guidelines:
This includes the ability to navigate Asset Bank pages through the keyboard and listen to most of the website using a screen reader. In this case we have chosen the common implementation of navigating with the Tab button.
In accordance with Success Criterion 2.4.7, Asset Bank has a mode of operation where the keyboard focus indicator is visible. This is a system wide setting that can be switched on in the Admin > System > Accessibility Settings area.
If your Asset Bank is on a version prior to version 3.1828.16 and you wish to upgrade please contact our Customer Support Team.


Configuring Alt text attribute
Alt text attribute is used to describe the appearance and function of an image using a screen reader. By default it will appear as a Text (long) type attribute in Admin > Attributes but you can change the Attribute used for alt text by replacing the "Alt text attribute ID" field in Admin > System > Accessibility Settings.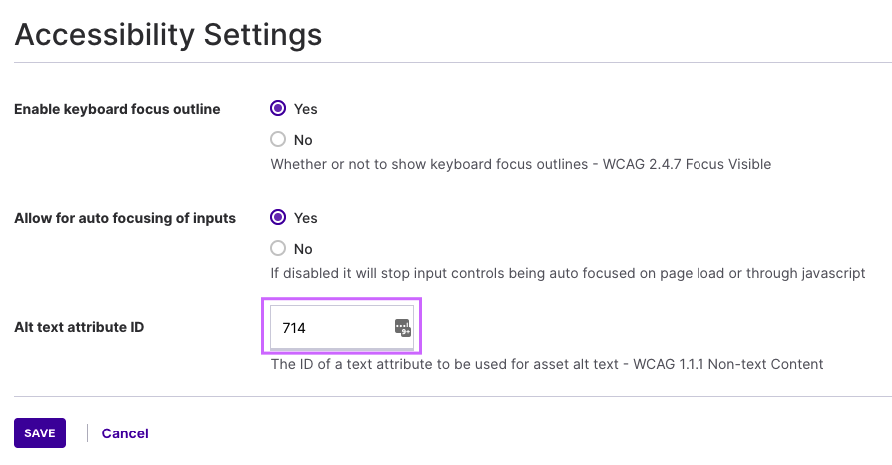 To locate the Attribute ID that you wish to use for alt text go to Admin > Attribute > [your chosen attribute] > Edit and look for "attributeId=xx" parameter in the URL (the ID you would use from the following example is 4).

https://test.assetbank-server.com/assetbank-test/action/viewEditAttribute?attributeId=4

NB: If you have Asset Types enabled, remember to also select this new attribute for use with any applicable Asset Types.

With screen reader enabled, and by navigating the site using the Tab button, Alt text attribute content will be used to describe your assets.
There are many resources on how to write good alt text but we find this article particularly useful.