When downloading a lightbox, if you select a Usage Type that has been configured with the 'can download as PPT/PPTX' option, you can download images and other PowerPoint files in your lightbox as a PowerPoint presentation.
Your administrator will usually create an appropriate Usage Type, called (e.g.) PowerPoint.
When you select this usage type a new checkbox will appear called 'Download as PowerPoint Presentation' .
This will be checked by default (you can untick it if you want to download the images in a zip file as usual).
When this checkbox is checked each image will be added to the presentation on a new slide in the order they are shown in your lightbox.
If your lightbox contains PowerPoint files then these will be merged into the presentation, although note that PPTX files cannot be merged into a PPT file and vice versa.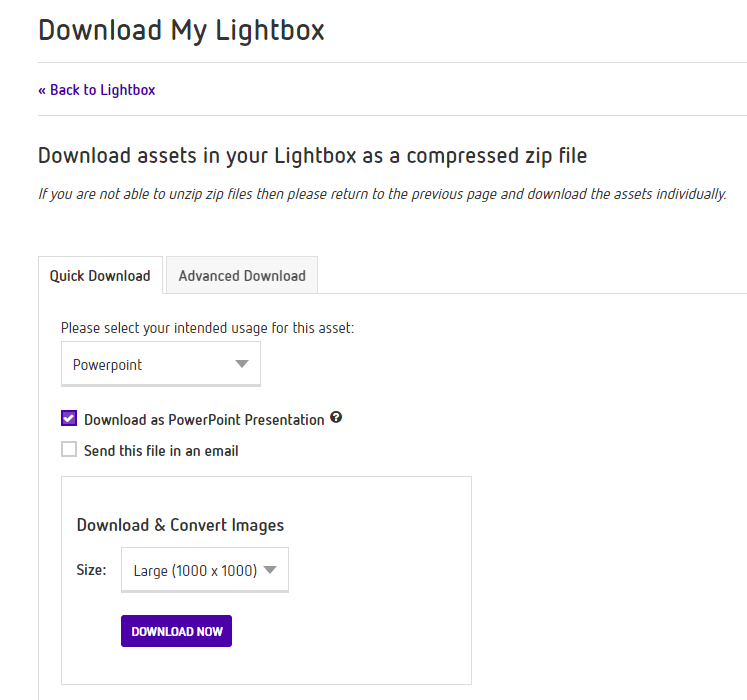 If you select the Download as PPT/PPTX option Asset Bank will do one of three things,
If no PowerPoint template have been added to your Asset Bank then a blank PPT file will be created, and the images (and presentations) will be inserted into this, one on each slide.
If there is one PowerPoint template, the system will determine the file format is ppt/pptx, insert the images (and presentations) and then provided the generated file to download in its respective file format.
If there are multiple PowerPoint templates, you will be able to select which template is to be used:
Note: This feature only supports basic image formats: BMP, JPG, GIF, and PNG.