Masks are images uploaded to Asset Bank that can be overlaid on top of downloaded assets. This means that the opaque areas of the mask are overlaid and any transparent areas allow the asset to show through.
Please note that Masks will crop the image to the size of the Mask image and Masks are not available when using the Credit Strip functionality. If you are unsure whether this feature is enabled please contact
Customer Support
.
Uploading a Mask to Asset Bank
To add or remove masks go to the Mask Images tab in the Admin > Download Options area. Simply upload your Mask image in a format that supports transparency, give it a name and click the 'Add' button. Here you can also delete previously uploaded Masks.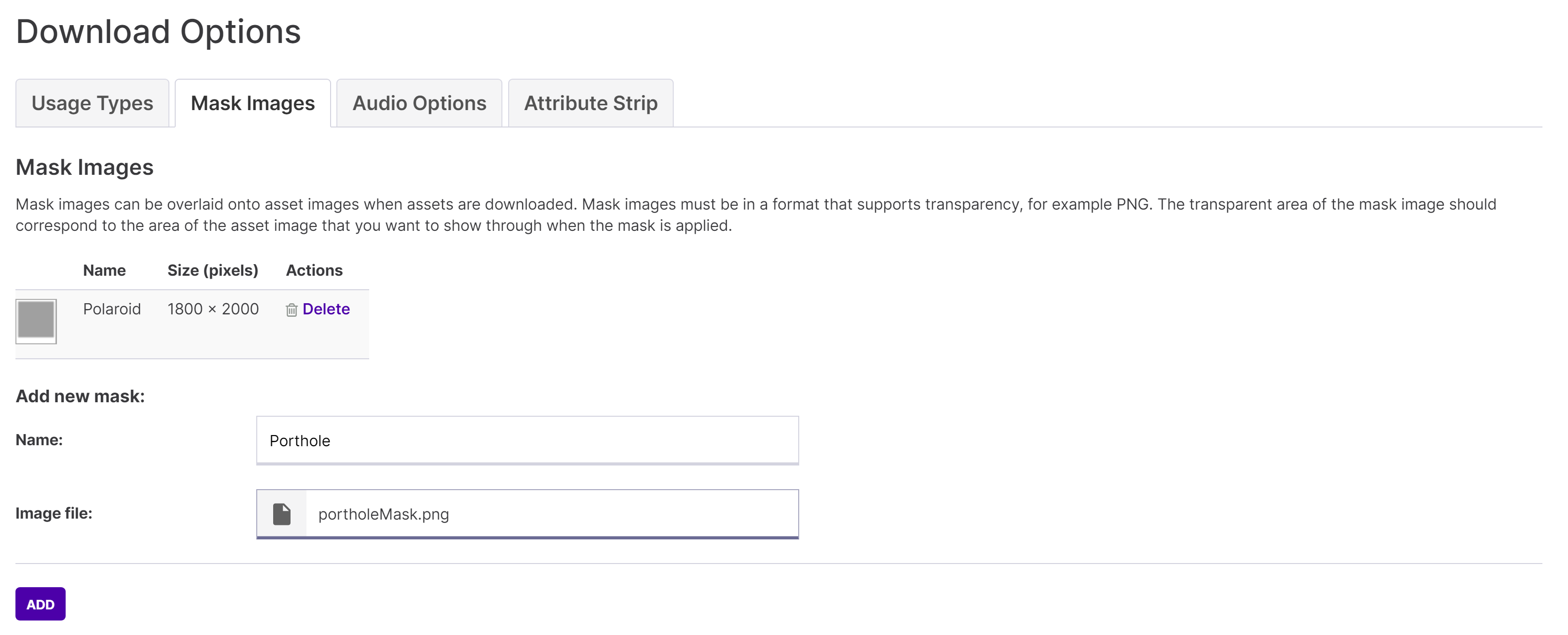 Adding a Mask to a Download Option
At this point your Mask is ready to use and any user with access to the Advanced Download tab can use it. However, to streamline the download process for all users we would recommend adding a Usage Type for your Mask(s).
In the Usage Types tab in the Admin > Download Options area create a new Usage Type. In this example we have called this Usage Type "Masks".

Click on 'Edit sizes' for your new Usage Type and set up a new size for each of your Masks. For each size make sure that the 'Allow masking' checkbox is ticked, select the Mask from the 'Preset mask' dropdown and that the Max width and Max height are at least as big as your Mask.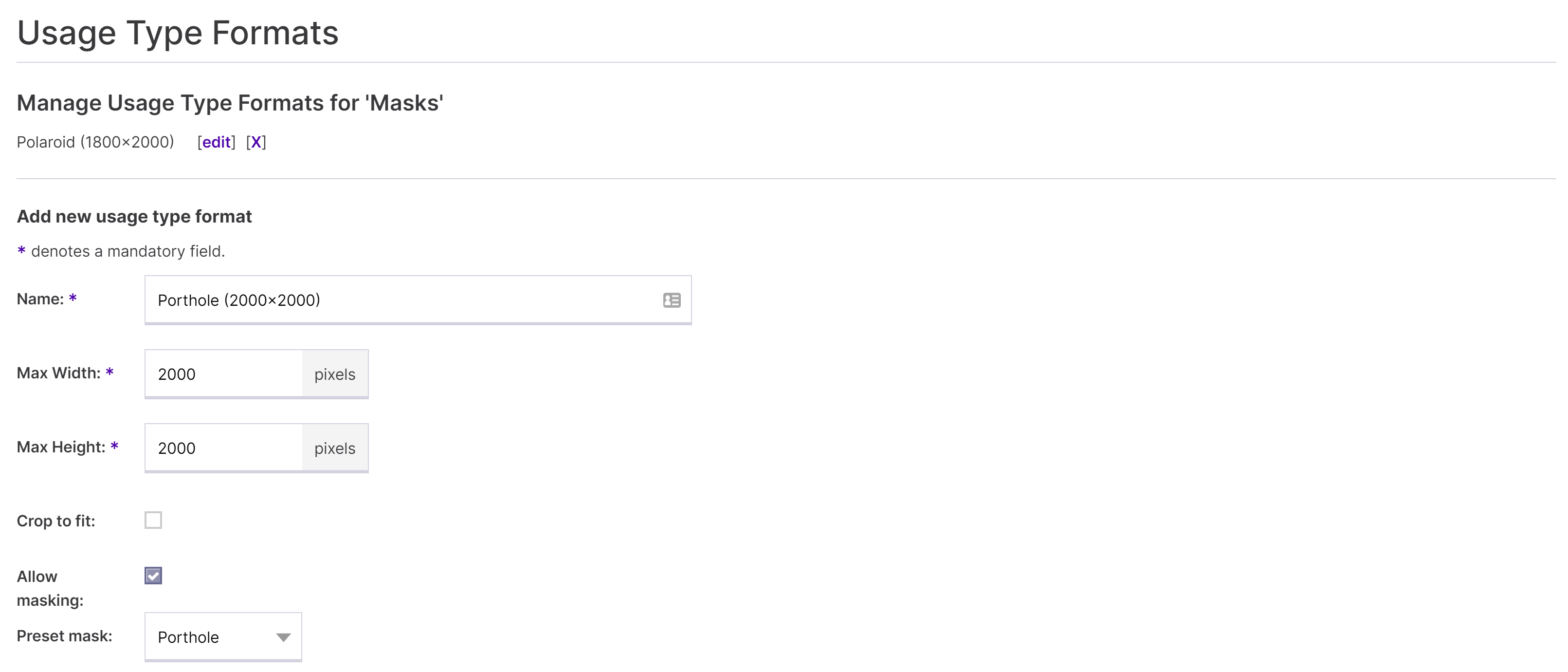 With your download options set up, users will see the following when they choose these options on download.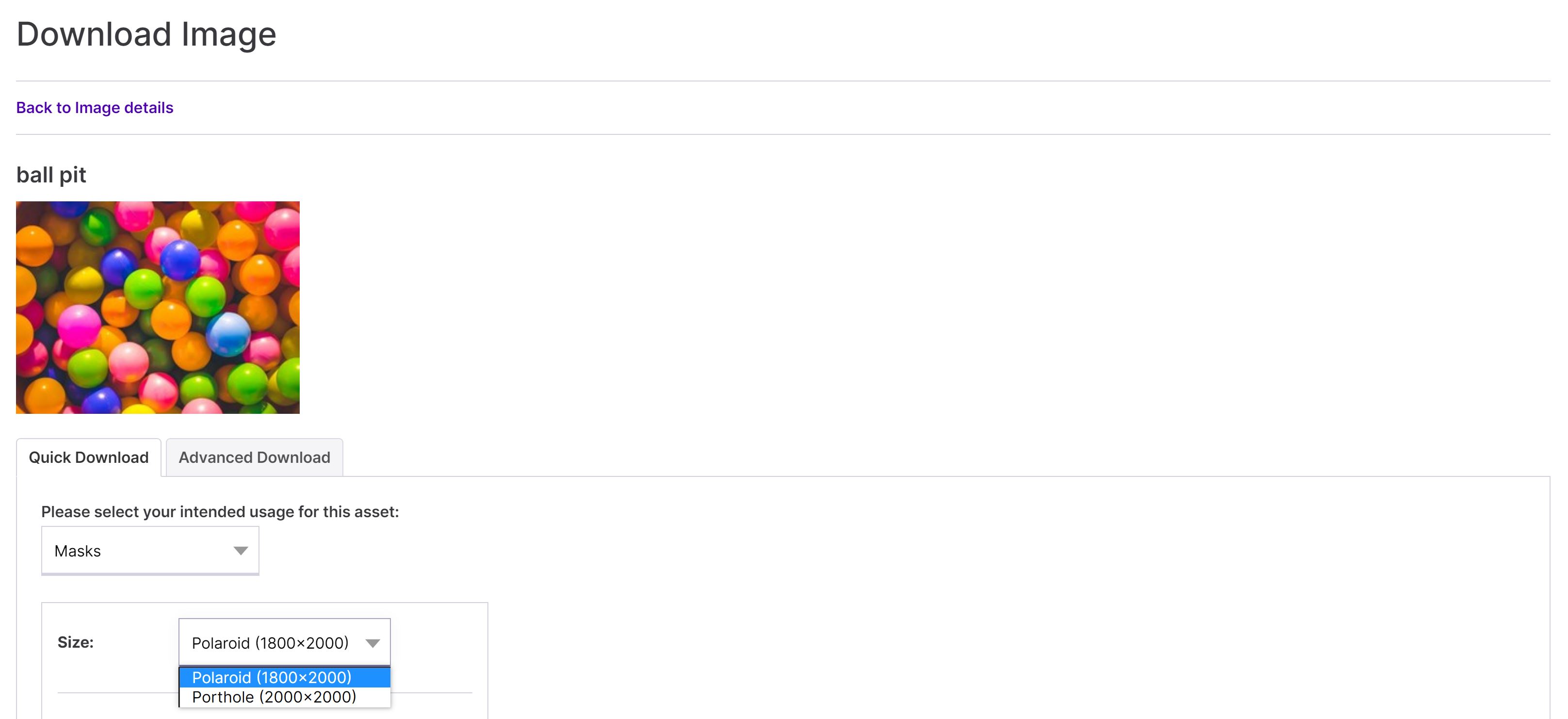 Requirements for Mask Images
Mask images must be in a format that supports transparency, for example PNG. The transparent area of the mask image should correspond to the area of the asset image that you want to show through when the mask is applied.
Mask Colours
By default the masked area takes its colours from the colours of the mask image. However, when a colour is chosen then the non-transparent areas of the mask are filled with that colour before it is applied.
You can define preset colours at the bottom of the Mask Images page.