Content overrides allow you to show different content to a user depending on their groups. Only certain content items can be overridden on a per-group basis. If the user is in two or more groups that have overrides for the same content item then the default content will be used instead. If only one of the user's groups has an override for a particular content item then they will see the override content.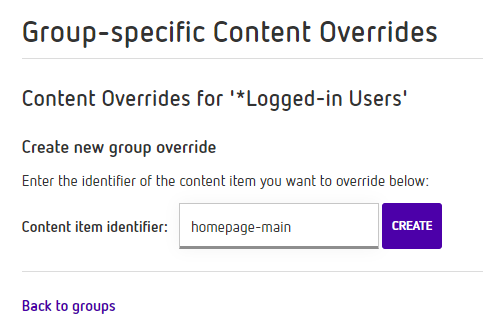 To override a content item, type or paste the content item identifier (e.g. "homepage-main") into the form and click Create. You can find the content item identifier by first editing the default content item in the Admin > Content menu - the identifier will be shown above the editable content. It may be easier to use Edit Mode to find the content item you want to edit, rather than searching for the specific name.

Once you have created a content override you can edit, delete or add translations for it (if you have a multi-language Asset Bank).