Our Asset Bank layout provides users with a modern user experience, with a fixed header and navigation bar to keep key functionality at your fingertips at all times. Take a look at some of our clients with public-facing Asset Banks that have customised their look and feel to see the range of available options.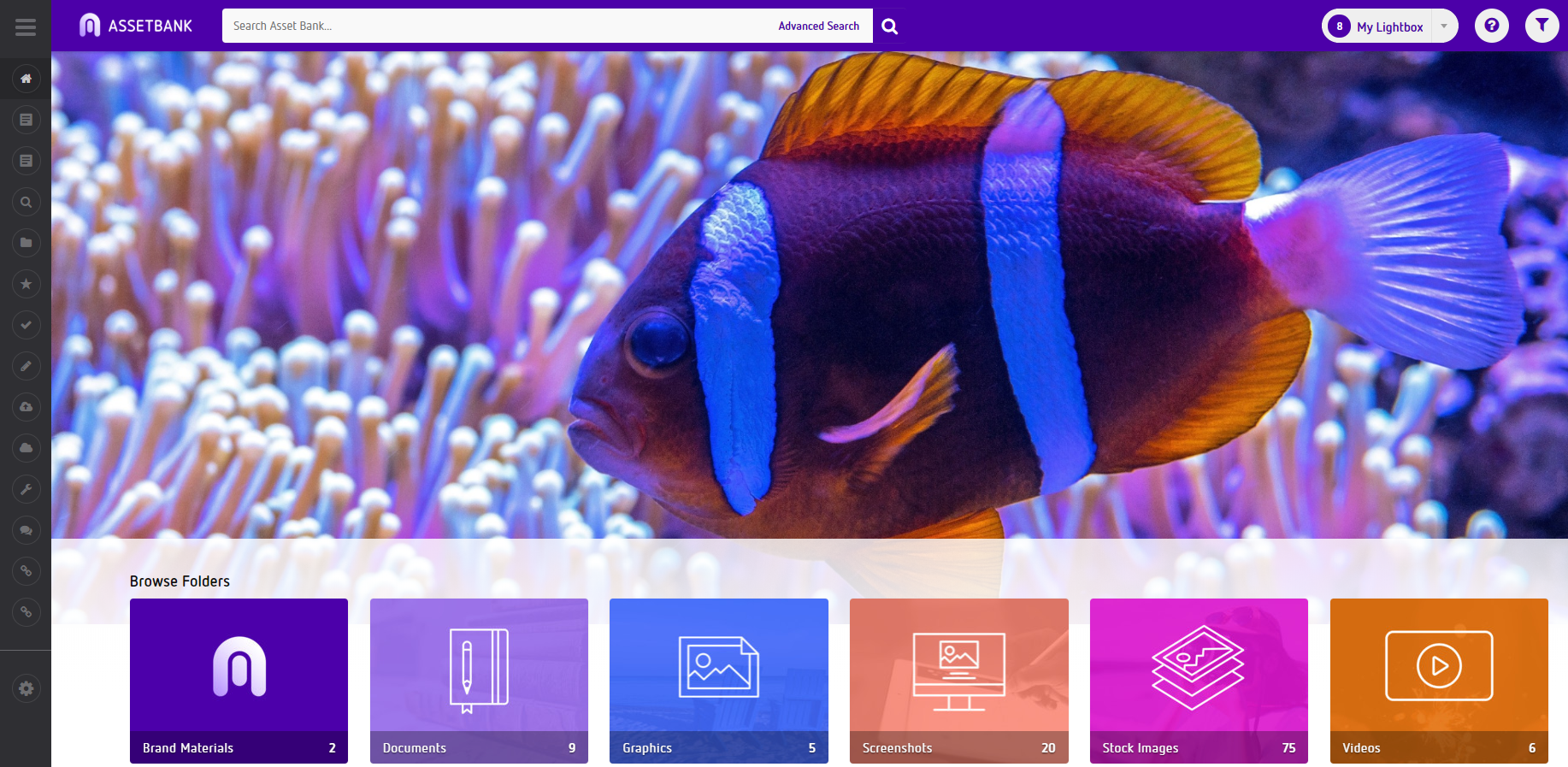 Want to change the appearance of your Asset Bank?
If you let us know the specific hex colour codes your brand uses, we would be happy to apply them to your instance. Please fill out this spreadsheet with any relevant colours to suit your brand and send it to us so we can start applying the changes.
However, If the standard design of your branded Asset Bank is not connecting with your brand and you would like something more bespoke, we're here to help.


What can be changed?
In short, there are a lot of visual changes that can be made to your Asset Bank. If you have something specific in mind, please don't hesitate to ask us and we can discuss the options. Alternatively, here are some of the more commonly requested changes:
Logo: This will be displayed in the top left corner of your Asset bank and on your published lightbox page. Please supply us with a high res png or vector file so we can apply this.
Watermark: Asset bank can apply a watermark to every asset preview, this is normally based on your supplied logo (monochromatic version of the logo). The position and opacity are configurable in the settings file.
Typography: By default, Asset Bank uses either "Helvetica Neue / Helvetica". We can change this to another websafe font or if supplied another custom font (depending on the number of font changes required this may incur an additional charge).
Colours: We can change: primary font colour, primary link colour, heading (h1, h2, etc.) colours, button colour, header background colour, homepage search panel colour.
Other Colours: It is also possible to change some other colours in Asset Bank depending on your requirements, however these may incur an additional charge depending on the number of changes.
Login Background Image: Your asset bank is configurable with one or more images that can be uploaded to the login screen.
Folder Thumbnails: Clients often add images to top-level folders to help visually communicate their contents. You can set these via Admin > Folders > Edit > 'Choose file'.
Footer
The footer is an ideal place to display contact information for your organisation, in addition, it can be used to reinforce your brand with supporting graphics.
Specific elements:
Header
One of the most common elements to be changed is the header. Some of the most common changes to the header include background colour, logo, height, shadow and search bar. Here are some examples of those customisations:





Navigation
The new left-hand menu is fully customisable, here are some examples from existing clients: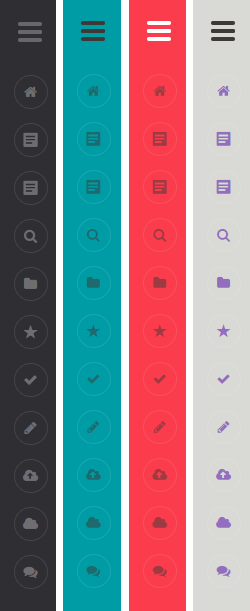 Home search panels
The new homepage can also support a variety of layouts: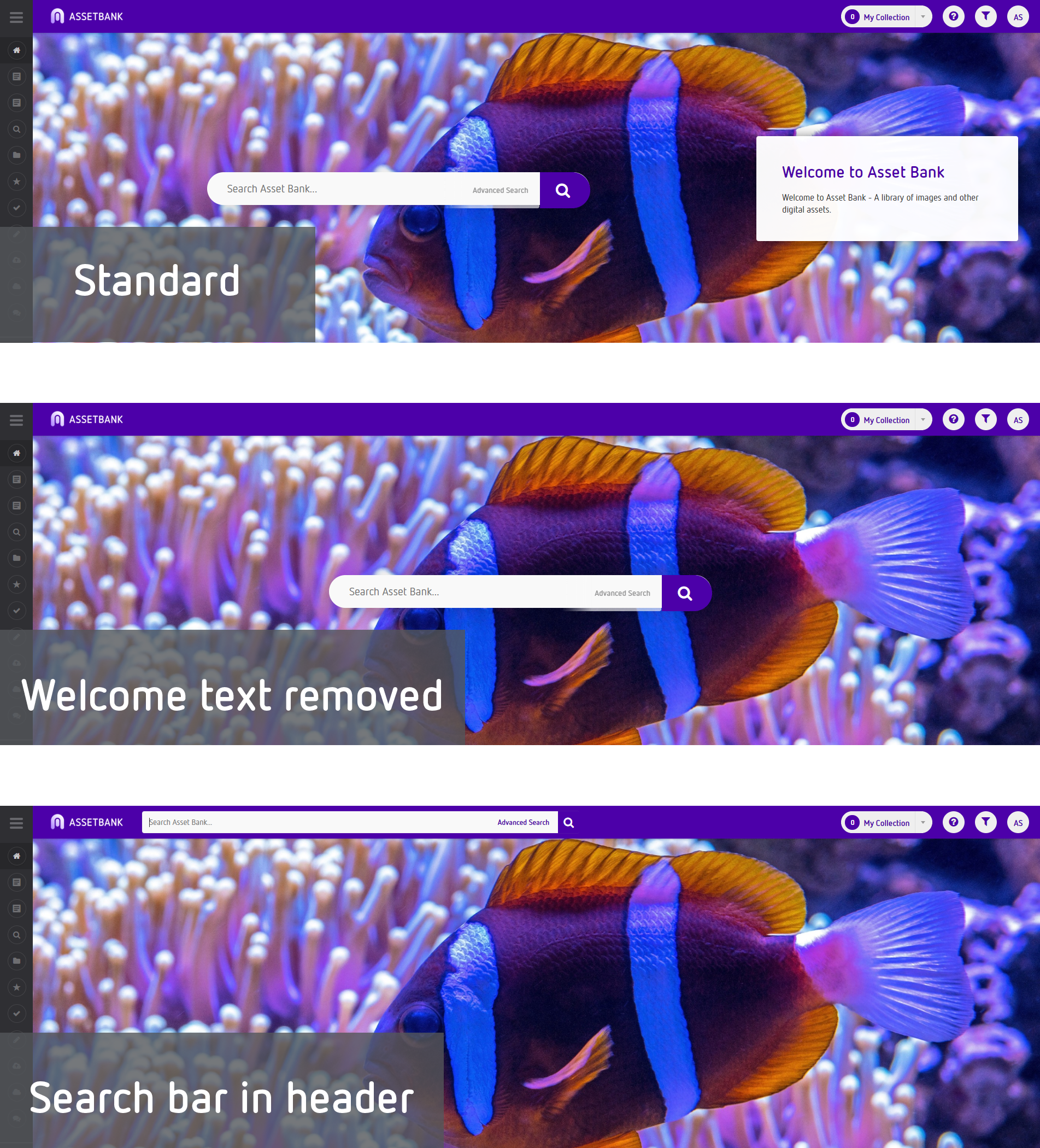 Get in touch today
Please don't hesitate to contact us and our expert team will help find the solution you are looking for.

Please note that customisations are chargeable under our Time & Materials policy.