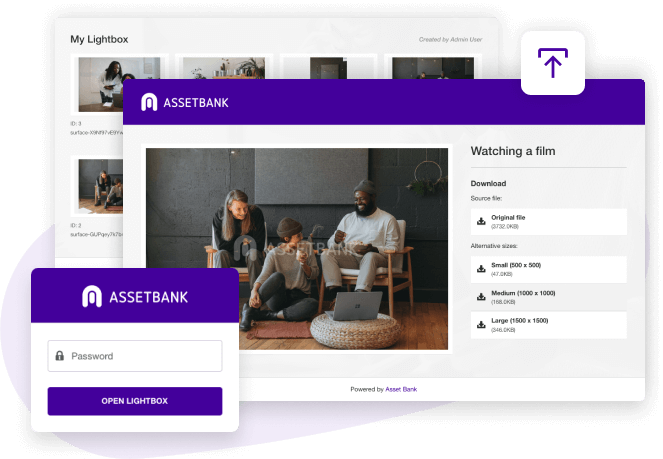 Assets in a Lightbox can be published, which gives you a link that you can send to an external recipient. You can also add an optional password for added privacy. This is a great way to share collections of assets with third-parties without the need for them to have a login.
Published Lightboxes will have the site branding applied, and configuration options include:
What sizes to make available (e.g. original, web sizes or thumbnails)
If a password should be added or not
What the expiry date should be
Admins can also decide which attributes will be visible on a published lightbox.
As users can create multiple lightboxes, they may also have multiple Published Lightboxes too.
To get started, add some assets to a lightbox, open the lightbox and click on the 'Publish' link.

The next page will ask you to provide an optional password for your published lightbox, an optional expiry date, along with the ability to choose from download options you have configured for use with this feature.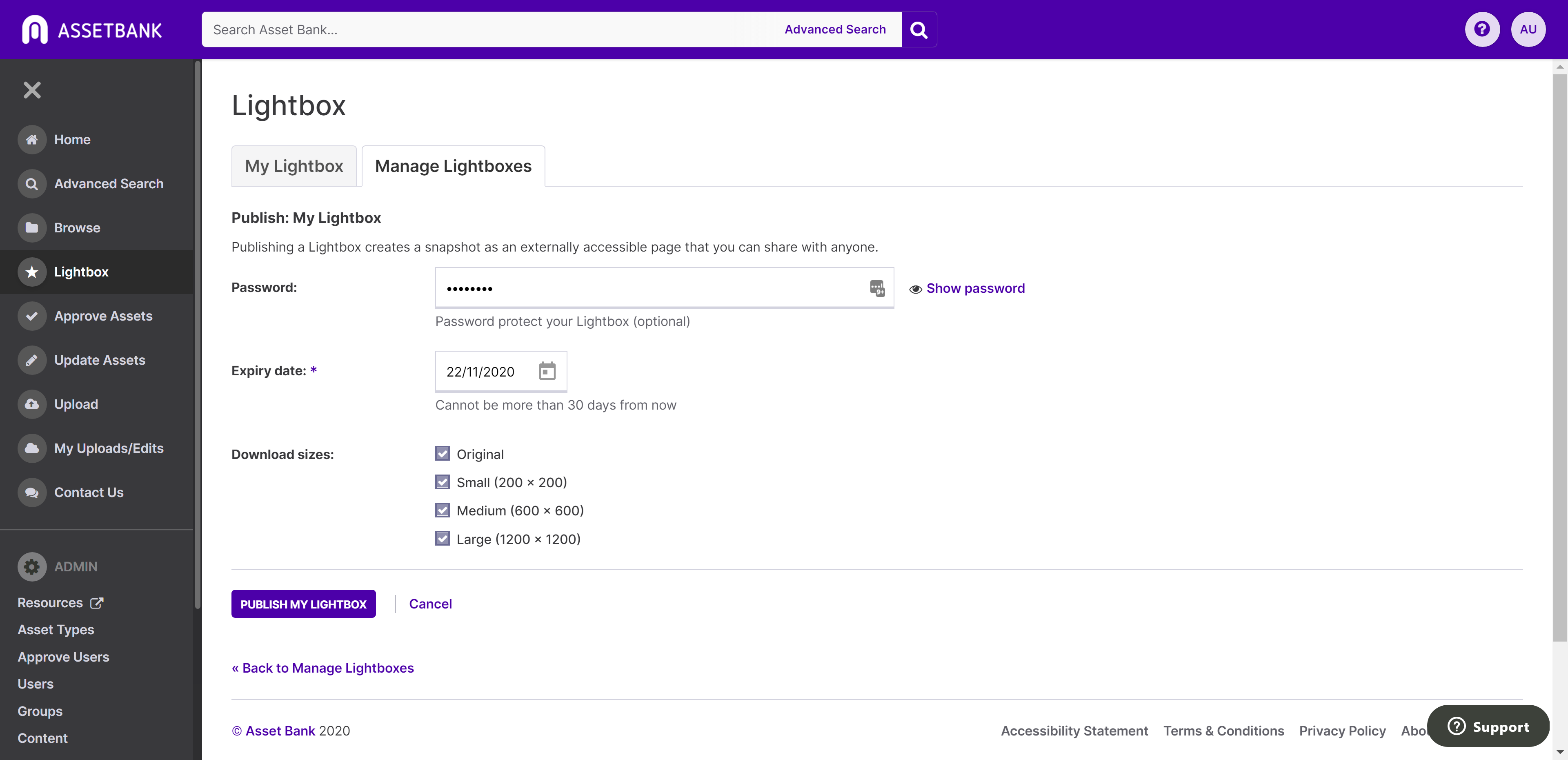 When viewing a published lightbox, you may download all the assets within it as a single compressed .zip file, or individually by selecting an asset and choosing a size that has been allowed for download.
Adding/Editing Download Sizes
To change downloadable sizes available to published lightboxes, create a new Usage Type, name this 'For Published Lightbox Use' and configure it with all the Usage Type formats you need for this purpose.
Afterwards, navigate to Admin > Publishing > Lightbox Publishing Actions > Edit lightbox publishing template, click the dropdown next to 'Usage Type for Resizing', then save.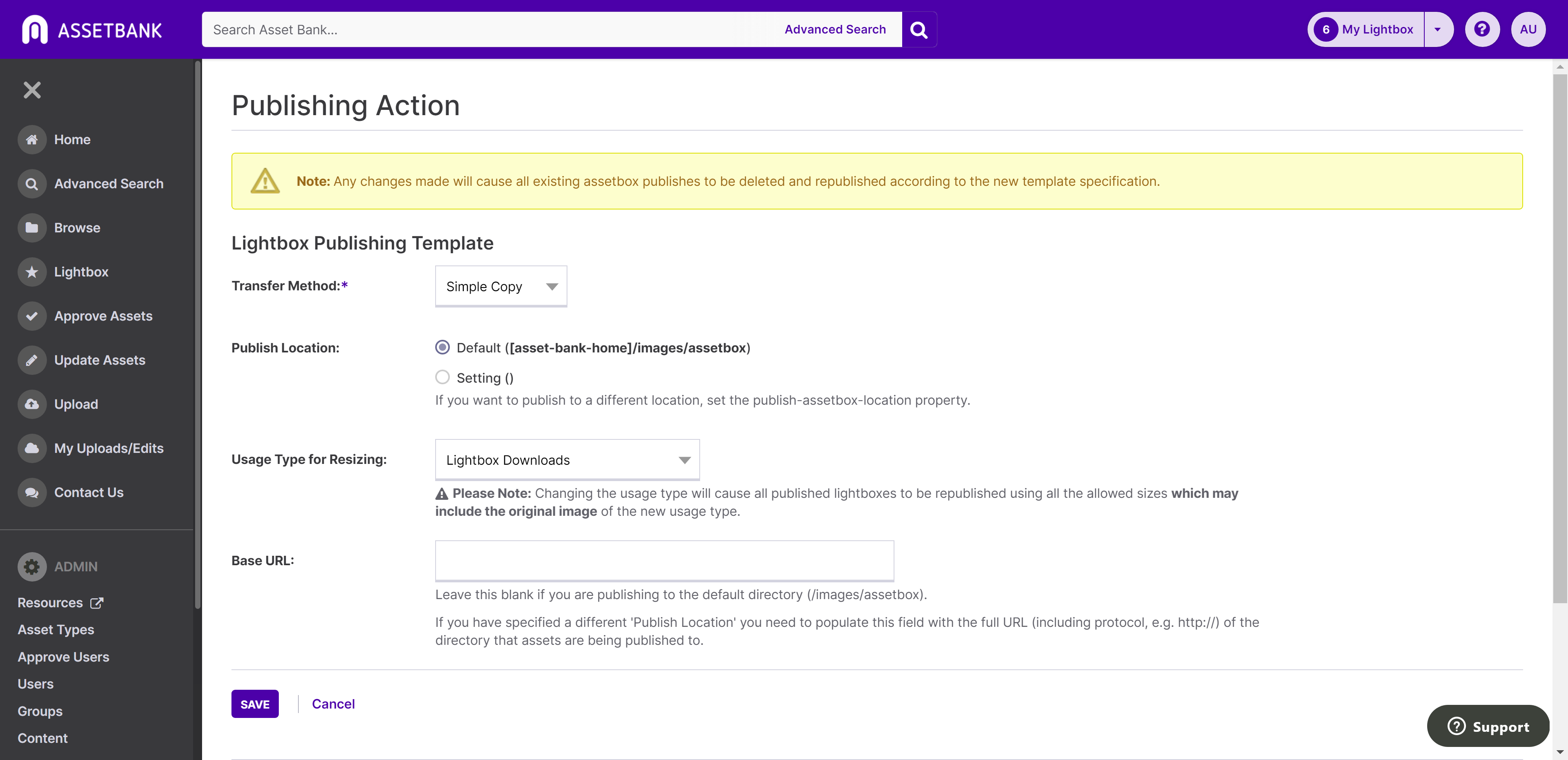 View Only Published Lightboxes
When generating a Published Lightbox, you have the option to untick all of the download size pre-sets in order to generate a lightbox that is view only, with no download options.

NB.: View Only Published Lightboxes will only work once you have added Download Usage Type for Lightbox publishing as per "Adding/Editing Download Sizes" above.


Changing Visible Metadata
As Published Lightboxes are publicly available, you might want to ensure that assets in them do not include any sensitive metadata. You can change the metadata shown on your published lightboxes within Display Attributes.
For the individual view asset pages within a Published Lightbox, navigate to Admin > Attributes > Display Attributes > Publishing > Published lightbox view asset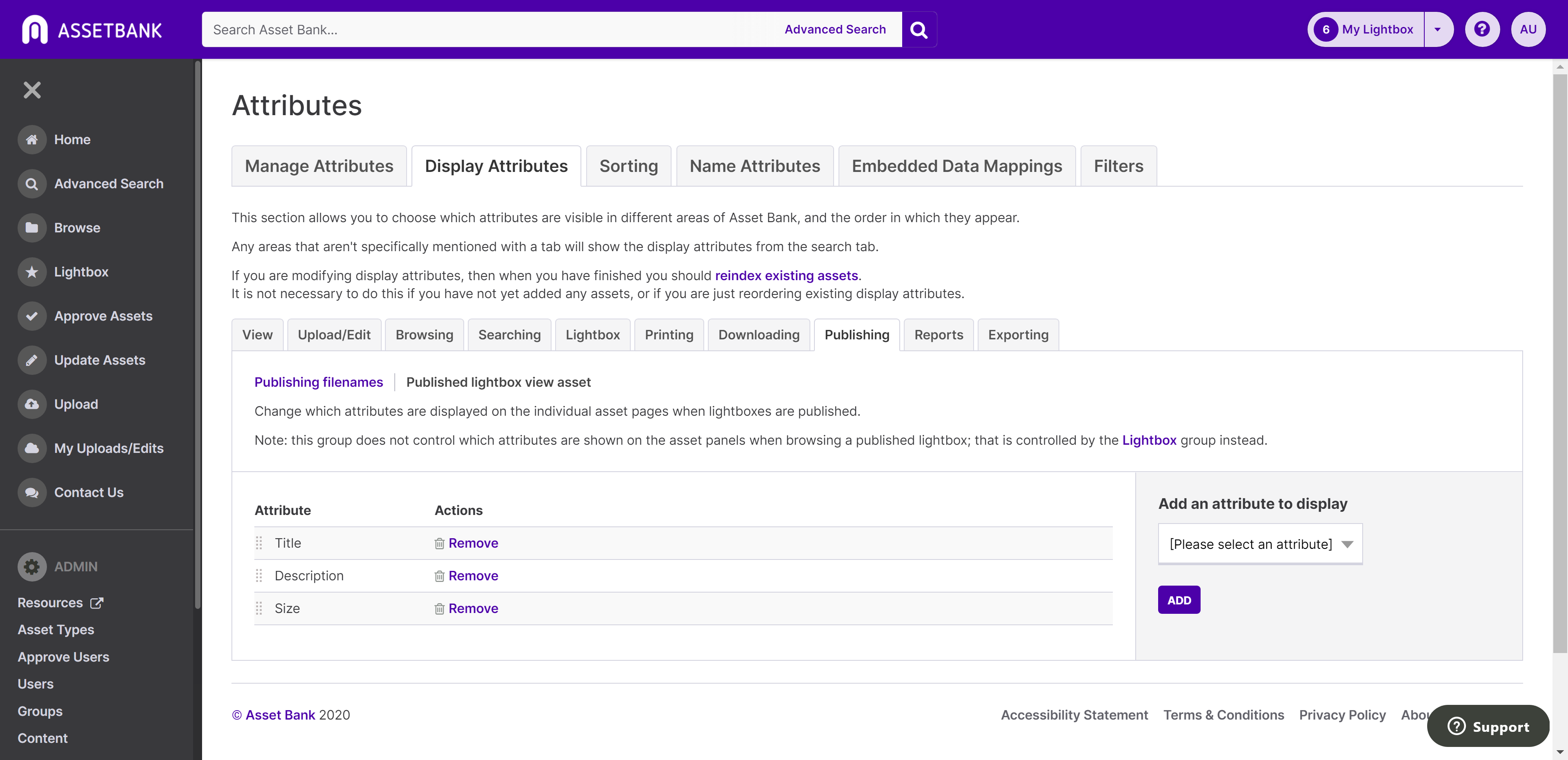 Add attributes from the right-hand dropdown selection tool. You may also remove any attributes which you do not want to appear on this page.
Note: this page does not control which attributes are shown on the asset panels when browsing a published lightbox; those are controlled within Admin > Attributes > Display Attributes > Publishing > Lightbox
Watermarks
Watermarks can be applied to Published Lightboxes in various ways. Browse to Admin > Publishing > Lightbox Publishing Actions > View/Edit Watermarks. On the next page you'll find the default watermark that applied to this feature on your site. If no watermark is configured, or if you'd like to create a new one, you can do so by clicking Add a new watermark >>
Multiple watermarks can be configured for a single Published Lightbox, within the thumbnail images, asset view pages or downloads.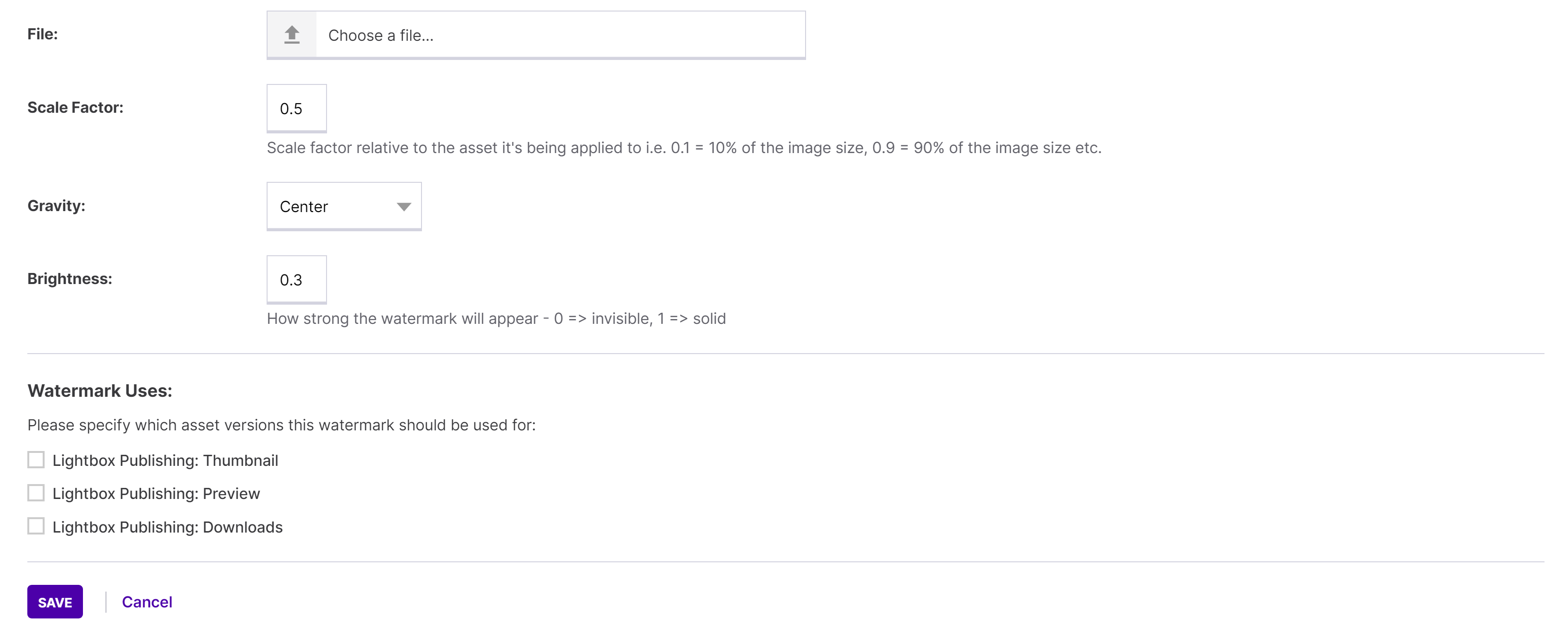 Please note that updating the watermark settings here can only be done by administrators of the system, and the new configuration will be applied to all existing and future Published Lightboxes.
Expiry Dates
Asset Bank sites that are hosted on our Cloud servers have a max expiry date for Published Lightboxes of 30 days. However, a system change can be made by our support team to decrease this duration to suit your needs.
Making changes to a Published Lightbox
When you make a change to your Lightbox in Asset Bank the published lightbox is not automatically updated - this is to ensure that the published version remains the same and you cannot accidentally have more assets published than you anticipated.
If you've made changes to any of the above settings (i.e. password, selected assets, etc.) then you can use the "republish" option to update your Lightbox with the latest set of information.
Technical Notes & Lightbox Expiry
As Published Lightboxes are served as external links, assets & thumbnails within them are duplicates of the files stored on your Asset Bank. This means more storage space should be allocated to allow for multiple published lightboxes.
You can change the default maximum expiry date for your Published Lightboxes in Admin > System > Lightbox Publishing Settings. If you host Asset Bank on your own servers change the following setting in ApplicationSettings.properties to a number of your choosing, or 0 for unlimited:
PublishAssetBoxMaxExpiryDays= 
Controlling asset privacy
When publishing a lightbox you are choosing to generate a publicly accessible URL to the assets within the given lightbox. This URL is constructed in such a way that it is not "guessable", although we do recommend that you use the password protection function if there are any sensitive assets within the lightbox. The password should be transmitted securely in a separate message to the lightbox URL in order to minimise the risk of interception. It is possible to restrict which groups have access to the 'publish lightbox' feature when creating or editing a group.