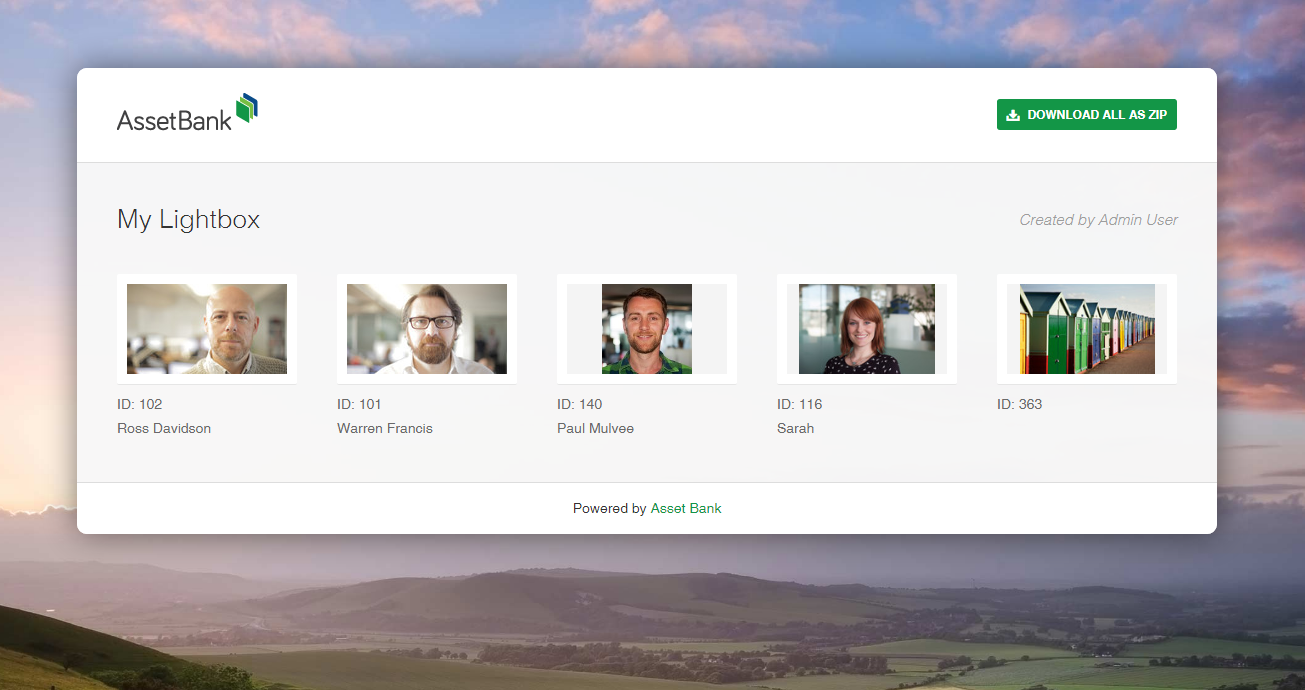 Assets in a Lightbox can be published as an external HTML link that can be served to anyone. This is a great way to share collections of assets with third-parties without the need for them to have a login.
Published Lightboxes can be branded with your company logo, a background image, configured to include download sizes and metadata of your choosing and offer password-protection. As users can create multiple lightboxes, they may also have multiple Published Lightboxes.
To get started, add some assets to a lightbox, open the lightbox and click on the 'Publish' link.

The next page will ask you to provide an optional password for your published lightbox, an optional expiry date, along with the ability to choose from download options you have configured for use with this feature.

Here's a quick demonstration of the process of publishing a lightbox: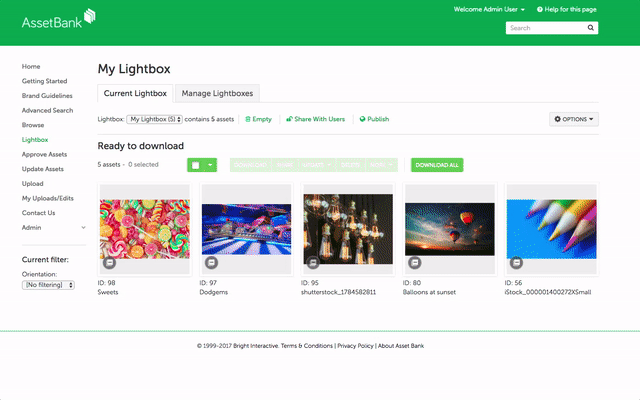 When viewing a published lightbox, you may download all the assets within it as a single compressed .zip file, or individually by selecting an asset and choosing a size that has been allowed for download. 
Adding/Editing Download Sizes
To change downloadable sizes available to published lightboxes, create a new Usage Type, name this 'For Published Lightbox Use' and configure it with all the Usage Type formats you need for this purpose.
Afterwards, navigate to Admin > Publishing > Lightbox Publishing Actions > Edit lightbox publishing template, click the dropdown next to 'Usage Type for Resizing', then save.

Changing Visible Metadata
As Published Lightboxes are publicly available, you might want to ensure that assets in them do not include any sensitive metadata. You can change the metadata shown on your published lightboxes within Display Attributes
For the individual view asset pages within a Published Lightbox, navigate to Admin > Attributes > Display Attributes > Publishing > Published lightbox view asset 

Add attributes from the right hand dropdown selection tool. You may also remove any attributes which you do not want to appear on this page.
Note: this page does not control which attributes are shown on the asset panels when browsing a published lightbox; those is controlled within Admin > Attributes > Display Attributes > Publishing > Lightbox
Watermarks
Watermarks can be applied to Published Lightboxes in various ways. Browse to Admin > Publishing > Lightbox Publishing Actions > View/Edit Watermarks. On the next page you'll find the default watermark that applied to this feature on your site. If no watermark is configured, or if you'd like to create a new one, you can do so by clicking Add a new watermark >>
Multiple watermarks can be configured for a single Published Lightbox, within the thumbnail images, asset view pages or downloads.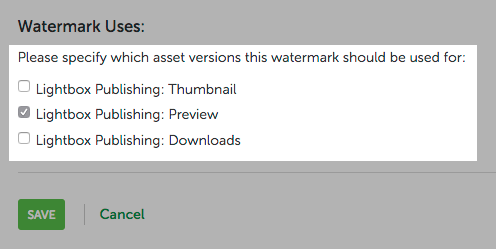 Expiry Dates
By default, expiry dates for Published Lightboxes cannot be more than 30 days ahead. However, a system change can be made by our support team to increase or decrease this to suit your needs.
Published Lightboxes are available in all recent versions of AssetBank. If they're not enabled on your site, please get in touch and we'll be happy to enable this feature.
Further reading: Paul's guide to setting up flexible options for Published Lightboxes
Technical Notes for our self-hosted customers:
As Published Lightboxes are served as external links, assets & thumbnails within them are duplicates of the files stored on your AssetBank. This means more storage space should be allocated to allow for multiple published lightboxes.
If you'd like to change the default maximum expiry date for your Published Lightboxes, change the following setting in ApplicationSettings.properties to a number of your choosing, or 0 for unlimited:
PublishAssetBoxMaxExpiryDays=