The CI HUB connector allows users to access the files from their Asset Bank, directly from within the apps they use, like Photoshop, InDesign, Microsoft 365 and more.
Files are stored in a local cache
When a file is selected in the connector and dragged into the underlying app, a copy of the file makes its way from Asset Bank to a local "Temp cache folder" on the users' computer. You can see/change this location if you visit the settings area of CI HUB.
What if you want to share your InDesign doc with a colleague?
If you share an InDesign document you are working on with another colleague, then the link to the files cached on your local machine will not work for them. To resolve this your colleague can visit the CI HUB panel and click on the Links option.

They can then see the files that are missing locally.

They can now click on the blue links icon to relink the files, bringing cached versions to their computer.

During this process they can decide which version of the file to bring across, e.g. the original or a different size version.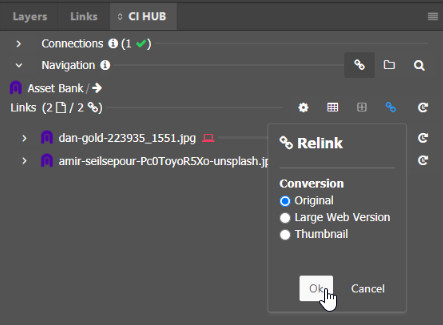 The files are now available in the document for your colleague.