Essential Training Recommended for all administrators
4 Hours
Up to 10 attendees
Available to new and existing customers, this course covers all of the functionality an administrator needs to set up and manage an Essential Tier Asset Bank.
User training
Admin training
Session recording
The course is split into two online sessions and delivered by our in-house training team.
Professional Training Our Professional Tier training course, with the addition of our Professional package features
4 Hours 30 mins
Up to 10 attendees
Available to new and existing customers, this course includes all the content covered in our Essential training plus the advanced features of Asset Bank Professional:
User training
Admin training
Session recording
Professional/Enterprise feature training

SSO integration
LDAP integration
Organisational Units
Multilingual
API
Asset Types
CMS Integration
The course is delivered in two online sessions by our in-house training team.
Bespoke Refresher Session Get back up to speed with Asset Bank
2 Hours
Up to 5 attendees
Ideal for those already up and running with their Asset Bank and looking to update or supplement their knowledge in key areas. We offer a 2-hour webinar session comprised of selected content from our Essential or Professional courses.
Tailored training
Session recording
Our refresher sessions prove useful to growing teams of administrators, getting you up to speed and helping you to explore advanced functionality.
To book a training session contact our team today!
Call us on +44 (0) 1273 923152 or send us an email
Session content
User training session
The first training session is suitable for both administrators and basic users of the system, although not all users will necessarily have permission to do all features covered (e.g. uploading assets).
Navigating and the Home Screen
Searching
Browsing
Lightboxes
Downloading Assets
Contacting your Asset Bank administrators
Approvals
Uploading and editing Assets
Editing Assets using 'Bulk' and 'Batch' updates
Admin training session
The second training session has a greater focus on the options available to your administrators.
Managing Content
(e.g. pages and email templates)
Groups and permissions
Folders
Attributes
Download options
Managing users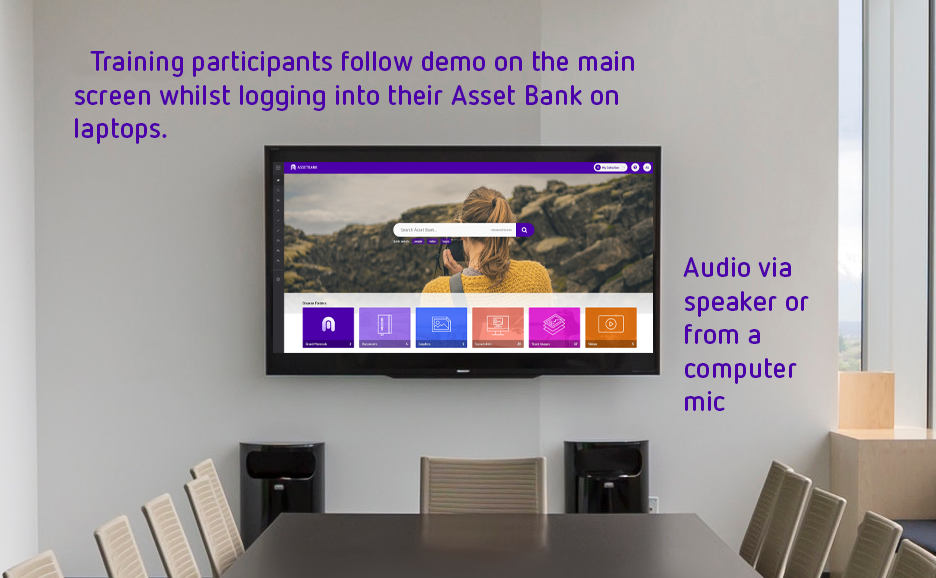 Example of an online training session  - participants can watch and take notes or follow the demonstration using a laptop
On-site training
For our UK clients we can offer an onsite training session for any of our packages, please contact us for details.